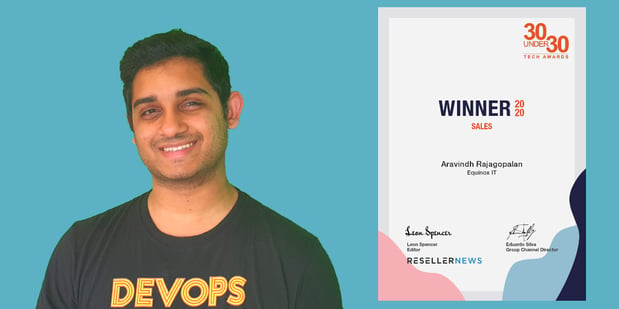 Equinox IT Cloud Business Consultant Aravindh Rajagopalan has been announced as a winner in the sales category at the 30 Under 30 Tech Awards 2020. The award recognises Aravindh's outstanding achievements and business excellence as a young professional in the tech sector.
The awards were announced on June 18 during the annual Reseller News Emerging Leaders Forum, which this year ran entirely virtually for the first time.
Aravindh joined Equinox IT in 2019 after roles at Accordo and Ingram Micro. As his 'Cloud Business Consultant' title suggests, he takes a consultant-based approach to sales, and exceeds expectations by focusing on adding value and making a difference. His sales capability is underpinned by substantial technical and consulting experience specialising in cloud, DevOps and IT.
In addition to his sales responsibilities, Aravindh has led multiple key Equinox IT initiatives, including growing our partnerships with Microsoft and Ingram Micro, creating our Kickstart Cloud offering, setting up our key client quarterly business review programme, leading important client engagements, and bringing innovative new approaches in our response to COVID-19.
Since starting at Equinox IT, Aravindh has graduated from Harvard Business School with a Sustainable Business Strategy Certificate and also completed a Mini-MBA from the International Business Management Institute.
When not working at Equinox IT, Aravindh gifts his time and IT expertise to international charity Sriom, which helps and supports people and families dealing with poverty, autism and aged-care. Aravindh transformed their IT environment to use a secure, stable and reliable cloud platform, and continues to manage their IT team who support over 400 users.
He is also an owner and director for technology business SDN Global.
Aravindh brings a unique balance of entrepreneurship, technical skill, business acumen, creativity and strong community values that make him an exceptional part of the team at Equinox IT.
His achievement as a 30 Under 30 Tech Award winner is incredibly well deserved! Congratulations Aravindh from the entire Equinox IT team!