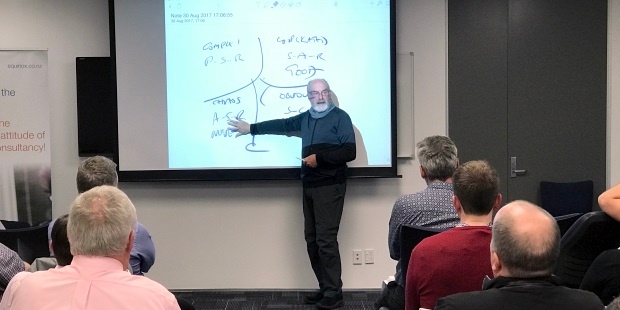 We have always taken the view at Equinox IT that there is no single right way and that as consultants we bring a toolkit and use the right tool for the job.
For a long time we have used the sense making Cynefin Framework developed by Dave Snowden of Cognitive Edge and the Cynefin Centre to help understand how we and our clients best respond to business and IT problems that are obvious, complicated, complex or chaotic. A number of our consultants have attended Cynefin training with Dave Snowden.
So it was fantastic to have Dave Snowden with us in our Equinox IT Wellington offices on Wednesday evening this week to present to our clients on IT complexity and the Cynefin Framework.
Dave's presentation covered a range of areas including:
Explaining the Cynefin Framework
Recent additions to Cynefin, described as Liminal Cynefin, for addressing unarticulated needs
The risks and shortfalls of the Scaled Agile Framework (SAFe) which Dave described as a linear model unsuitable for dealing with complexity
Scrum, waterfall, and other development approaches and where these fit into the wider Cynefin Framework
The risk that business analysts and systems analysts influence what is required, and the need for disintermediation in complex situations (although analysts still play an important role in complicated scenarios and transitioning from complex to complicated situations)
The use of narratives to better understand need
The idea of an apprentice model for IT that develops IT professionals who have broader experiences to call on when facing complex situations
The need for abstraction to enable innovation, allowing those involved to see important patterns that are not clear at a concrete level
Pragmatic advice for dealing with complexity - start with where you are today and let things that aren't working die naturally based on results.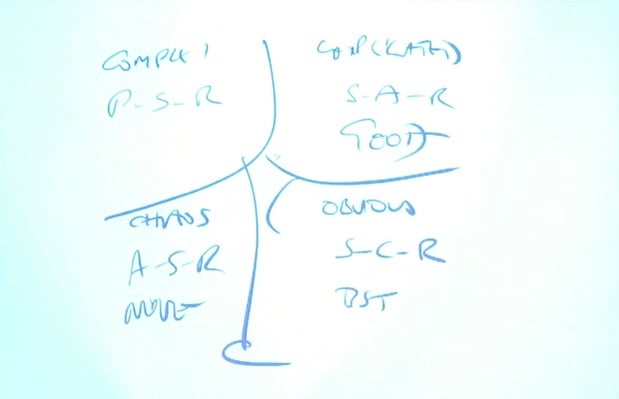 Dave's expertise in complexity and knowledge management sees him involved in a huge breadth of problems all around the world and across many domains, not just IT. So while he is seen as a thought leader in the Agile community, his primary reason for this visit to New Zealand has been around complexity in emergency response situations and also in public and social policy. During the visit Dave ran a number of other events for government policy professionals and academics exploring better approaches for dealing with complex social and public policy issues.
Many thanks to Dave for making time available to present to Equinox IT and our clients. Our many thanks also to Mark Anderson of the Cynefin Centre for facilitating our time with Dave.