We hosted a Business Analysis Think Tank event last evening at our Equinox Wellington offices on the topic 'Evolving the Role of the Business Analyst'. The topic seemed to strike a chord with the Senior Business Analysts and IT Professionals who attended. Facilitated and led by Craig McLean and myself, the session provided an excellent opportunity for us to discuss, debate and get other's ideas on the 'Evolving the Role of the Business Analyst' related topics that the two of us had presented at the recent BA Development Day conference held in Wellington earlier this month.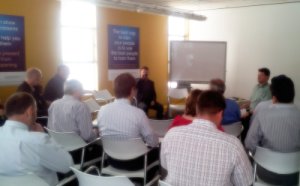 I drew several conclusions from the discussion:
The role of the Business Analyst has specialised in several areas to the degree that the Systems Analyst (or Software Requirements Analyst) is now seen as a separate role from the Business or Enterprise Analyst (or Business Architect)
While there was agreement that the rate of change is increasing and that social media type tools could well have an impact on how we do our job, there was a firm persuasion that we shouldn't get carried away with the tools, and ensure we focus on the business needs
Having mentioned the above, the rapid adoption of tools, including the emerging visualisation tools, BAs do need to adapt and think how to appropriately use them
The challenge of retaining business knowledge hasn't gone away; an emerging potential solution is to ensure that all Business change agents (including the BA) are working off the same blueprint
The importance of being the communicators of impact and the providers of context to projects within the business is a key responsibility.
I would like to continue to hear your views both from those who attended the Think Tank and from others who read this post, so please contribute any thoughts or further thinking you have on the topics discussed in the comments below.

We are planning to organise further BA Think Tank events in the New Year. If you are interested in these events or have ideas for future topics, please contact us.