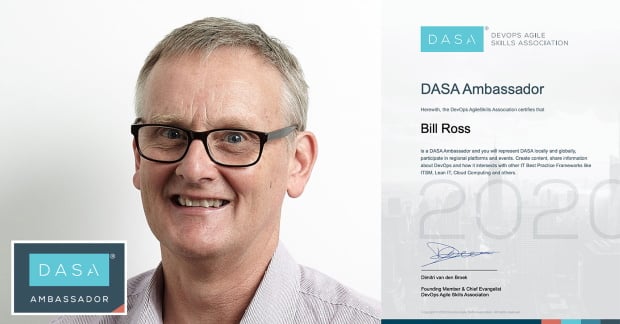 The DevOps Agile Skills Association (DASA) has appointed Equinox IT Principal Consultant Bill Ross as DASA ambassador for New Zealand.
DASA is an open, global community for DevOps and Agile skills development.
In the role Bill will advocate DevOps and Agile ways of working and inform organisations, teams and professionals on the skills and knowledge required to build and support new digital products and services.
"It's a great honour to be asked to serve as an Ambassador for DASA," Bill said. "I believe in the goals of the organisation, which blend certification and skills building with organisational and leadership development. In my view, it will take this combination of factors to make DevOps and Agile methodologies a success in the IT organisation."
Bill was selected because he brings extensive technical IT experience and expertise in solution architecture and software development to the ambassador role.
"The New Zealand IT community stands to benefit from Bill's leadership, steering them toward the future of software development" says Dimitri van den Broek, Founding Member and Chief Evangelist of DASA.
New Zealand IT consultancy Equinox IT is a DASA Training Partner and Forerunner Member, using the DASA DevOps Competence Model in consulting engagements and delivering the DASA DevOps Fundamentals Certification course.