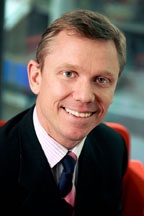 This week we are pleased to welcome back Dr Peter Reynolds, Research Scientist for the MIT Sloan Center for Information Systems Research (CISR), who will work with Equinox IT on Wednesday and Thursday. Equinox IT is the only New Zealand owned consulting company to sponsor the MIT Sloan CISR, which provides us with access to all of the CISR's latest research findings, resources and case studies, and we use this information to better advise our customers.
Dr Reynolds was last in Wellington working with Equinox IT in February along with Professor Peter Weill, MIT CISR Chairman. During the current visit Dr Reynolds will work with Equinox IT advising on how operating models and exploiting digitised platforms help organisations become more successful in a digitised world. Dr Reynolds will also meet with Equinox IT customers to advise on MIT frameworks. The visit follows a trip by Equinox IT Business Change Practice Director John Barris, to participate in the MIT CISR Summer Session 2012, held in Boston in June.
"Equinox IT and our customers are getting tremendous value from our relationship with the MIT CISR and the excellent research-based information they provide" says Equinox Consulting Director Julian Downs. "It is great to have Dr Reynolds back this week to work with us."
Dr Reynolds is a former senior executive and Chief Technology Officer in Australian corporates. He won the top international award for best doctoral dissertation in information systems for 2010 with his thesis entitled 'Aligning Business and IT Strategy in Multi-Business Organisations'.
About the MIT Sloan Center for Information Systems Research
As part of the Massachusetts Institute of Technology Sloan School of Management, the Center for Information Systems Research (CISR) conducts research and disseminates findings on issues relating to the management and use of information technology in complex organisations. The Center has a mission to help executives address the IT-related challenges of leading increasing dynamic, global, and information-sensitive organisations. Find out more about the MIT CISR.