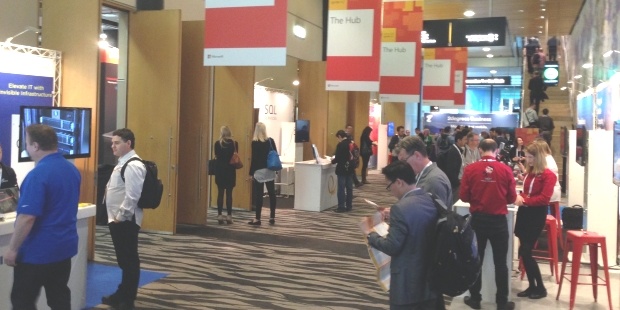 This article is republished from my original 'First day of Microsoft Ignite NZ' post in LinkedIn.
I'm fortunate to be attending the New Zealand Microsoft Ignite conference this year, thanks to my employer, Equinox IT, being a Microsoft partner. Most of my previous experience with cloud has been on AWS, and I wrote earlier in the year how themes of IoT, Serverless and Microservices came up again and again in the Auckland AWS Summit. Well, Ignite (formerly TechEd) is also hammering home the same topics.
The day started with some exam cram sessions, and I went to the Azure focused ones. One significant difference with Azure is the PaaS offerings, allowing you to set up apps and websites without getting involved at the operating system level. This is great stuff and lets you get a site, complete with geo-redundancy and scaling, set up in minutes. It actually takes much longer to write the copy than to roll it out. Microsoft come to the party with deployment slots as well, letting you preview changes before making them live. This is some pretty sophisticated capabilities, and I will be recommending these PaaS services a lot more in future.
The Keynote had some great moments, showing some new kit like Hololens, and a TV like device called SurfaceHub. With a huge screen, web cameras and Windows Universal App support built in, it looks like a great way to collaborate remotely. The screen lets you draw and share like a whiteboard, and of course to save your doodle or email it. Microphones like on the Amazon Echo ensure crystal clear voice, and after the meeting you can run Netflix or any other UWP app on it.
I went to sessions on IoT (of course !) and API management, and it confirmed to me that I am on the right track. So powerful to expose and manage an API built up from lambda or functions, then govern access to it to allow your business systems to be used in ways you can't even imagine. Or reuse the code that you crafted for a website in a mobile app, because you thought about it up front and went with an API lead approach. We really do live in the best of times for technology.
Tomorrow I am planning on seeing talks on the Microsoft Graph api, iBeacons and mobile, DevOps and the Bot Framework. I can't wait, will write it up when I get the chance. (Update) you can now read my highlights from Day 2 of Microsoft Ignite NZ.
Adam Knight is a Senior Solution Architect based in Equinox IT's Auckland, New Zealand office.