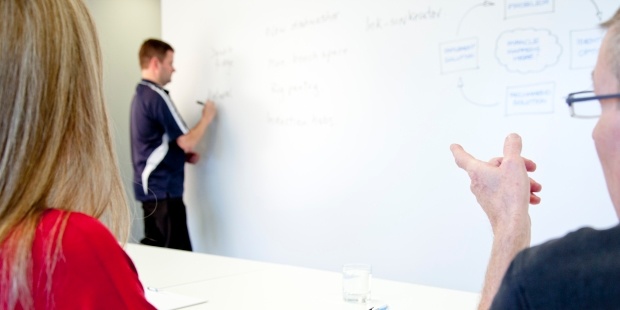 Every year we have many hundreds of IT professionals attend public and in-house training with Equinox IT. One of the most common questions that people want to know when looking at training is 'how much does IT training cost in New Zealand?'. This is an important question for any organisation thinking about training their people and getting value from that training. The answer depends on a number of factors, and these factors along with ballpark costs are outlined in this article.
What do we mean by IT training?
For the purposes of this article, 'IT training' refers to classroom-based training for IT professionals.
Some examples might include:
Business analyst training to get an introduction to the BA discipline or to learn particular BA skills and techniques
IT architecture training to learn the fundamentals of solution architecture
Agile development methods training for project teams
Certified ScrumMaster training to learn and also achieve an industry certification
Visual Studio or Sparx Enterprise Architect tool training for project team members.
In this article we are not referring to:
Technology related training for non-IT professionals, such as learning Microsoft Excel or how to add documents to your document management system
Online learning courses or computer-based training for IT professionals
Other approaches to building IT skill capability, such as coaching and mentoring.
How is training for IT professionals priced in New Zealand?
There are two different approaches to classroom training – public and in-house. You can find out more about both of these approaches, as well as their advantages and disadvantages, in our article Public training vs in-house training – what's best for your IT team? Both approaches are priced differently.
Public training pricing
Public training refers to classroom training that is held on a regular scheduled basis, that anyone from the public or any organisation can register for and attend based on a per person fee.
Public pricing is based on a set price per person to attend the scheduled public course.
Specific pricing details you need to know:
The public course price will normally cover all 'training related' costs for each attendee, including attendance at the course, use of the room and any associated technology, course materials, other resources supplied, and often (but not always) catering.
Some certification courses may have an additional exam fee payable to the examination body, which may be over and above the course fee.
Some training providers will offer early-bird pricing discounts on public courses, to encourage people to book early.
Some training providers offer discounts to organisations who book multiple people on the same training course (the number of people and discount that applies varies between providers).
Because the public course is scheduled for a particular place and time, there may be separate travel and accommodation costs that will be incurred for those who need to travel to a different city to attend the training.
In-house training pricing
In-house training refers to classroom training that is delivered as a dedicated course for a particular organisation. Because this training is dedicated, the organisation can help shape the course, including how many people will attend, where the training is to be delivered, customisation of content, whether catering is required, and so forth. These factors will all influence how the training is priced.
Core in-house pricing
Most training providers will determine their core in-house pricing based on the number of people from the client organisation who will be attending. Generally there will be a minimum base cost for an in-house course that will cover up to a certain number of people attending. Then a low per person fee will be used on top of the base cost for each additional person attending beyond the base.
Note:
This core in-house pricing figure will cover the attendance of each person on the training course and the course materials. Additional items such as catering and venue hire will be costed as extras.
As a general rule of thumb, the more people you place on an in-house course the lower the per person fee overall.
Most training providers will set a limit on the maximum number of attendees for in-house courses to ensure that each person still gets excellent learning value from their attendance.
Extra in-house pricing
Depending on what the organisation is looking to achieve there will often be extra costs associated with an in-house course:
If the organisation wants the standard course offered by the provider, then this course is already covered in the core in-house pricing. However, if they want the training customised, then the customisation time will be estimated and will be charged to the organisation on a time and materials basis.
Often client organisations will use a room at their premises for the delivery of training. However, we often find that internal rooms are not well suited to training and attendees can get distracted (or sometimes pulled out of training) to deal with work issues. We increasingly recommend dedicated training rooms for in-house courses. If the training provider organises these rooms, then they will normally be on-charged to the client organisation at cost. If the rooms need to have technology running for each student (for example if they are learning a tool, such as Visual Studio) then this technology fee will also be on-charged.
If catering is required for an in-house course, and the training provider organises this catering, then this will normally be on-charged to the client organisation at cost.
One of the benefits of running an in-house course is that it can be held at a location that is convenient to your people, and this may save travel and accommodation costs associated with sending your people to a different city. However, if the instructor needs to come to you from a different city then their associated travel, accommodation and disbursement costs will also be on-charged.
What to expect when understanding IT training costs
There is generally a breakeven point between public pricing and in-house pricing. For small numbers of attendees from the same organisation then public pricing is generally less per person, and for large numbers of attendees then in-house pricing is generally less per person. The break-even point number will vary from training provider to training provider, but at Equinox IT, at the time of writing, it is more cost effective to use public course attendance if you have 4 or less people to be trained, and more cost effective to use in-house courses if you have more.
Expect to pay more for longer training courses. There is more learning value in a three-day course when compared to a one-day course, so you can expect to pay more for the former.
Expect to pay more for in-house training that requires a good amount of customisation. Any customisation will consume time and training providers will generally charge for this time.
Expect to pay more for training that helps you or your team achieve well-known industry certifications. The additional cost can be associated with exam fees, licensing body membership fees, and also greater demand from people wanting to achieve the certification.
Expect to pay more for training courses that target advanced or specialist topics and target more senior people.
In New Zealand we sometimes see training providers (including Equinox IT) bring over international luminaries, who are recognised leaders in their particular field, to deliver training. These people are often in-demand and as such are paid well for their time. Expect to pay more for public or in-house courses delivered by these leaders when compared to courses delivered by less well-known instructors.
Ballpark IT training prices (New Zealand dollars, excluding GST)
Public training prices
Half-day course: $250 - $500 per person
One-day course: $500 - $1,250 per person
Two-day course: $1,500 - $2,000 per person
Three-day course: $1,700 - $3,000 per person
Five-day course: $2,500 - $4,500 per person
These figures exclude early-bird, multiple attendee or any other discounts that may be applied by IT training providers.
In-house training prices
Training providers do not generally publish their in-house pricing, so the figures below are based on typical scenario ranges that we have seen for in-house IT training provided in New Zealand.
Scenario
Scenario details for an in-house course:
An organisation is placing 12 people on a two day in-house Agile development training course.
The course will be customised to the organisation's specific needs and it has been estimated that 6 hours training customisation is required.
The training provider is organising an external training room and catering for both days of the course.
No student technology is required for the training course.
The organisation is based in the same city as the training provider's offices and no instructor travel, accommodation or disbursements are required.
Potential pricing range for this scenario


| | | |
| --- | --- | --- |
| Item | Bottom of range | Top of range |
| Core in-house cost for a minimum of 8 people and two days training: | $6,000 | $12,000 |
| Cost for additional 4 people and two days training: | $600 | $1,500 |
| Customisation estimated at 6 hours effort: | $720 | $1,200 |
| Training room for two days: | $1,000 | $3,000 |
| Catering for 12 people for two days (morning tea, lunch afternoon tea): | $600 | $1,250 |
| Total: | $8,920 | $18,950 |
Different scenarios will clearly have different costs for in-house courses, but this scenario should provide useful insight.
Comparing public and in-house pricing
Based on the above ballpark pricing, the mid-point price for a two-day public course is $1,750 + GST. Twelve people attending a public course from the same organisation in this instance would thus cost $21,000 + GST.
The mid-point for the in-house pricing scenario to train twelve people on a two day course (with customisation, room and catering) is $13,935 + GST. This is equivalent to $1,161 + GST per person, a 33% saving.
As previously stated for small numbers of attendees public courses will be more cost effective and for larger numbers of attendees in-house courses will generally be more cost effective.
Getting value from training
In a world where IT is rapidly changing it certainly makes sense to invest in you and your team's development. Different people and different organisations get a variety of value from attending training targeted at IT professionals.
From our perspective as IT practitioners we find it most beneficial when people who attend training can take away that learning and apply it to make a real difference to the success of their project or their organisation. Where attendees learn techniques and skills that they individually or as a team can apply to increase productivity or deliver better results to the organisation then the value from training can very quickly outweigh the cost. Also as project teams come together there can be enormous value in getting the whole team on the same page, using a common language and working towards a shared result.
The next time you explore training
This article has provided details on how training for IT professionals is priced and ballpark costs within New Zealand. There are large pricing differences between public and in-house courses and so understanding which of these is right for you and your organisation is an important first step. Our post Public training vs in-house training – what's best for your IT team? will help you make that decision. At that point you can refine specifically what you are looking for and this article should give you some insight, at a broad level, as to how much the training may cost.
If you have training needs for IT professionals and want a more specific understanding of how much this will cost then feel free to contact us directly to discuss.
If this article was of value, you may also wish to read our article How much do IT consulting services cost in New Zealand?