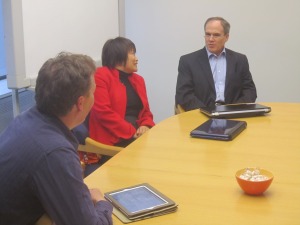 Last week it was great to have Ronald Ross and Gladys Lam of Business Rule Solutions visit and work with Equinox IT and our customers. Ronald and Gladys are the leading authorities on business rules and were in this part of the world as key presenters at the 'Building Business Capability' conference that ran in Sydney earlier this month. It was ideal to have them then come over to New Zealand, where we find that many organisations are still growing their understanding of business rules.
The Week
For his first time in New Zealand I think Ronald would have been keen to have some more leisure time. Unfortunately for him we kept him and Gladys very busy for the week. The week kicked off with internal Equinox discussions and Ronald and Gladys then engaged in Equinox organised ½ day workshops for Government and Auckland local Government, customer meetings and a 2-day public training course on 'Business Analysis with Business Rules'. Veronica O'Grady, Senior Business Advisor - Business Rules at Inland Revenue also contributed to the week presenting on how business rules have been implemented at the Department and participating in a number of the other events.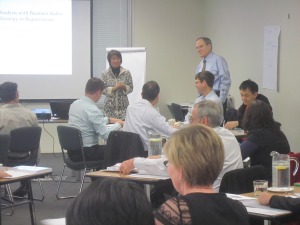 Key Takeaways
Following the visit I caught up with John Barris, Equinox Business Change Practice Director to brainstorm our thoughts from the week. Below are some of our key takeaways from the work that we did with Ronald and Gladys that may be useful as you look at how business rules can add value in your organisation:


Take a business view: business rules help you to look at solutions from a business perspective rather than technology perspective, ensuring business needs will be met.
Clarity: techniques such as a policy charter provides a structured way of looking at the goals, strategy, policies, tactics and risks associated with a business solution.
Retaining corporate memory: business rules provide an excellent way of capturing corporate memory, so that important information about organisations is not lost when key people leave.
Separate definitions and business rules: using a concept model you should define the key concepts for your organisation that don't change, and separate out the business rules which do change. For example, an overdue account is an account that should have been paid but for which payment is now late. The business rules around this may be 'payment is due by the 20th of the month'. The definition of overdue account never changes, but the business rules may be updated if the terms of business change.
Harvest rules from analysis models: the six analysis questions – what, how, who, where, when and why hold true, and Zachman's models associated with these questions, such as the process model, concept model, policy charter can be used to harvest business rules for your organisation.
Use rules to make effective decisions: decision tables can be used to visualise and manage entire sets of business rules, to handle complex criteria and make effective business decisions.
START NOW: you don't have to wait to start using business rules – start now and incrementally add business value to your organisation.


Example decision table taken from Business Rule Solutions whitepaper Decision Analysis Using Decision Tables and Business Rules.