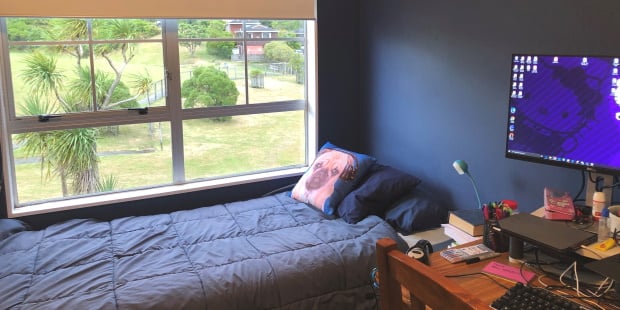 The view from my impromptu home office
This article is republished from my original Managing anxiety in the unprecedented times post in LinkedIn.
The world is currently experiencing an unprecedented situation. Many of you will be experiencing anxiety on scale for the first time in your lives. As someone who deals with anxiety daily, I'd like to share a few thoughts and tips on how to mindfully navigate through this scary situation.
I'd like to start by saying that anxiety isn't anything to be ashamed of. I'm fairly open about my situation, and as such I can tell you that those who judge are few and far between. For me, (because everyone is different) my anxiety displays itself in scenarios. If I'm walking down the street (pretty much every time I walk down the street) my mind throws up images of what would happen if there's an earthquake, and the building facades will fall, in explicit detail. Another key factor for me is those I love, the scenarios my brain presents about my loved ones are way stronger and harder to deal with than scenarios that involve just me.
What I have found is that you can't control anxiety, so my advice is to stop trying. Instead focus on some of these strategies to help you manage anxiety.
Strategies for in the moment
When you feel like you're about to explode, and freak out there's a couple of things you can do:
Breathe.
Yeah, I know, I breathe all the time. But breathing deeply and focussing on your breath (to the exclusion of other things) really does work. Try this GIF to help you with the rhythm.
Rationalise the thoughts
When your brain is presenting you with a scenario or saying weird things (apparently some peoples' brains have a literal internal dialogue), break it down. Ask yourself how likely it is that the thing will occur? If this starts to help, ask yourself how you might deal with the situation?
General Strategies
Concentrate on what you are in control of
When you start to think about getting infected (or your other concerns with the current situation), think about what you're doing to keep yourself and your whanau safe. Is there more you could practically do? Acting on what you can control can be a great way to manage your anxiety about what you can't control.
Create a routine
If you're like me and "banished for the safety of the realm" (aka working from home), don't just flop on the couch (or at least not all the time). Still set your alarm if you did that before. Get up, shower and get dressed. Work if you're able. Schedule time for breaks and exercise (if you're in your house your average daily step count will go right down, so even if it's to the letterbox and back a number of times a day your body and mind will thank you).
Meditate
This one had me so sceptical at the beginning. I simply couldn't see how it could work, but now, for me, this is the best technique. There are many options for this. Personally, I found the Headspace smartphone app awesome, as it firstly teaches you how to meditate, then gives you access to a lot of content. It is a paid service, but the first 10 days are free as a trial (you can cancel at any time), and I understand they've given access to some of their wider content in the trial package. There are also several people who offer phone or video lessons in meditation and the bonus with this is they can tailor the practice to you, and the way your brain works. Finally, you can also find free guided meditations by searching on YouTube; a colleague says The Honest Guys YouTube channel is a great free option.
Get some human contact (from a distance)
On Friday my company did a mass test for working from home. Because this wasn't something I had chosen, I found it quite different to those times I'd worked from home before. I really missed the human contact (not that I literally touch people at work!). So, the answer was video chat. Physically seeing someone's face that is not your own or someone you live with can really change your mood. On Friday, I usually have a drink or two with some of my workmates, and this past Friday a colleague and I did this over video chat. This was great for me as my momma always taught me not to drink alone, and my husband doesn't drink. As we now move into compulsory lock down in New Zealand do whatever you can to maintain remote contact with others to keep your spirits up – noting too that when you (and your colleagues and loved ones) are happy your immunity is stronger!
These are just a few of the things I'm doing to keep myself sane, positive and less anxious during this time. If you give any of these a go, I'd love to hear how it goes. If you have any other suggestions for people, feel free to share these below also. Finally, if you just want to reach out and have some human contact, feel free to do so.
He waka eke noa. We are all in this together. We'll get through this together.
Kirsten Eriksen is a Senior Consultant specialising in business analysis and Agile coaching, based in Equinox IT's Wellington, New Zealand office.