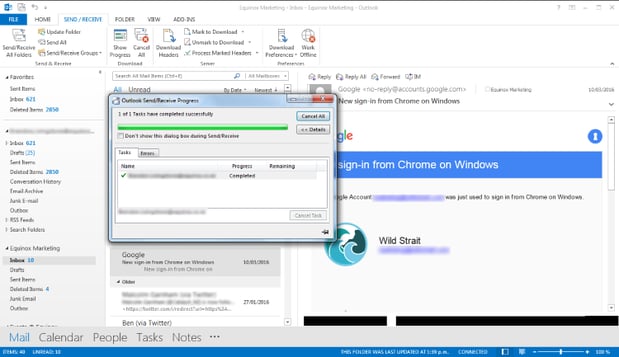 For most organisations Microsoft Exchange is a cornerstone business application. It provides key, critical communications both within the organisation and to the outside world. With increased mobile access, the criticality of this application continues to grow. Exchange is also becoming a de-facto content / contact store for vital information within organisations.
However Exchange implementations can often be treated like a utility (such as telephones or power) rather than a critical business application. Its implementation and management can sometimes lack the glamour of other business applications. In this series of three blog posts I will work through the performance risks with Microsoft Exchange (this article), Performance testing Microsoft Exchange using Jetstress and Load Generator and performance monitoring Microsoft Exchange in production, with the goal of mitigating the performance risks.
The business risks of Microsoft Exchange not performing
The performance of Exchange can lead to major business risks for organisations:
Delay or loss of vital information can impact business decision making
Poor performance of receipt from or delivery to external organisations can harm the organisation's image
Loss or late arrival of emails or calendar entries can result in productivity losses through wasted time
Poor response times in processing Exchange tasks can effect productivity.
Changes in the ways that users use Exchange may compound these business risks for organisations:
Search accesses for business information in Exchange are becoming more important.
User access is changing from Outlook client to browser based.
New types and increased variety of clients (mobile versus desktop) are being used.
Changes to Microsoft Exchange may increase performance risk
Performance risks can arise through changes to Exchange:
Exchange version changes - New versions of Exchange introduced by Microsoft have fundamental changes to architecture. There's movement of function within Exchange roles and introduction of new features. Just upgrading on the same infrastructure platform isn't necessarily a good idea!
Re-platforming - Moving Exchange from different types of infrastructure (e.g. physical versus virtual, dedicated disk to SAN) can put performance at risk.
Addition of plug-ins for integration to other applications - We live in a world of greater integration, where we expect different applications to work together, and Exchange can often be an important component in this mix. Where applications directly use Exchange, there are considerations related to configuration settings, particularly concerning thresholding (I will go into this more in a future post). Basically, 'out of the box' Exchange is set up with defaults that are related to normal (human) users. Add an application that presents a higher rate of messages by design and this can cause problems both for itself and other users unless the Exchange configuration is changed.
Impact through shared environments - Exchange is often delivered on shared virtualised and/or SAN environments so other applications that share the environment can have an impact on Exchange performance.
Impact on Active Directory environment - Exchange works closely with and depends on Active Directory. Upgrading Exchange can impact and be impacted by your Active Directory implementation. This can place a risk on other key business applications as well as Exchange itself.
Symptoms of Microsoft Exchange performance issues
Exchange performance issues can exhibit different symptoms ranging in severity as:
Poor user response time when accessing mailboxes
Delays in receiving and sending mail including blocking of traffic for users
Loss of messages
In extreme, system outages.
In Part 2 of this blog post series I will explore Performance testing Microsoft Exchange using Jetstress and Load Generator. Part 3 will cover monitoring Exchange implementations.