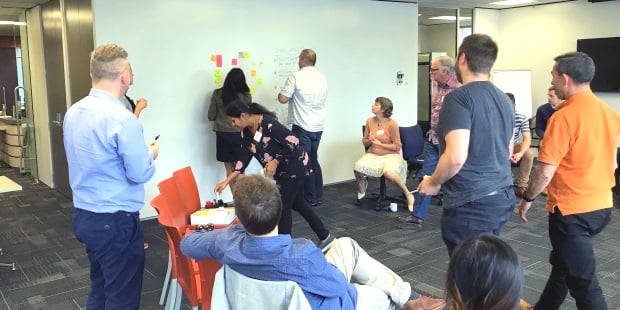 Over the last couple of months we've had numerous learning opportunities outside of our training courses:


Please sign up here if you'd like to receive invites to these types of events in the future.


---
Sharing what our consultants are learning
Steve Fargher, Senior Consultant (see Steve's profile)

Is this a prototype or an MVP? Well actually, it's a proof of concept - this article resonated strongly with me around what we're expecting to deliver versus what the customer is expecting. Often we use terms like 'Proof of Concept' and 'Minimum Viable Product (MVP)' without really defining and understanding exactly what these mean and how they will shape the products we deliver. This article highlights the differences between these terms and shows the importance of building a consistent understanding and agreement with our customers when we use them!
Bill Ross, Principal Consultant (see Bill's profile)

The New Killer Apps: Teamwork and Weak Signal Detection Lessons from the Military - after attending Michael Sahota's Certified Agile Leadership overview session for Equinox IT, I thought this recent InfoQ article resonated with many of Michael's views. I particularly like the definition of the "Suck Less" strategy… …."islands of disconnected effort" approach to agility, where an organisation hires a bunch of certified consultants who argue over frameworks. Some of these consultants swear by engineering or scaling agile approaches for fixing human systems.

Give REST a Rest with RSocket - Microservices is currently the architecture of choice for solutions requiring scalability, flexibility, and complexity. Component interaction is key to microservices working, and HTTP and the REST (REpresentation State Transfer) pattern are the default choice for this interaction. However HTTP was never designed for this, resulting in issues such as poor performance and back-pressure. This InfoQ article discusses RSocket as an opportunity to make high performance microservices based on a flexible fit-for-purpose layer-7 protocol.
Kevin Thomas, Senior Consultant (see Kevin's profile)

Presenting on multi-factor authentication at OWASP meet-up - it was great to present to the Wellington OWASP meet-up on multi-factor authentication. Broken authentication remains firmly pegged at the #2 position in the OWASP top 10, yet many websites and high-risk facilities do not implement multi-factor authentication approaches. During the presentation I focused on the Time-based One-Time Password (TOTP) algorithm and encouraged development teams to incorporate these and other emerging authentication approaches into their applications.