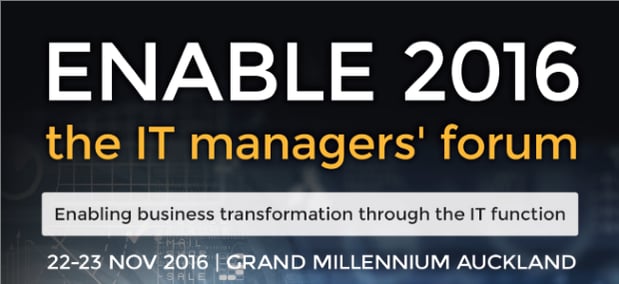 We are seeing many IT executives and practitioners exploring how best to 'enable' transformation in their organisations and businesses.
There is no silver bullet or simple answer to this complex area. As an industry we need to share our experiences and hear from others who are also working through this challenge.
We believe that the upcoming Enable 2016 conference in Auckland with the theme of 'enabling business transformation through IT' provides an excellent opportunity to come together to hear from others and start those important conversations. That's why we've signed up as the Gold Sponsor.
In addition to the other great speakers you will also hear from our own David Reiss and Adam Knight on the topic of DevOps as a key enabler for transformation. More importantly however, the event will help you share ideas with other IT executives during the breaks and networking activities.
We'd love to see you at this event, and as the Gold Sponsor we'd like to offer you a discount code to save 20% off the early bird or standard pricing.
Enable 2016
22-23 Nov 2016
Grand Millennium Auckland.
Register before 25 October to save $200 and use the Equinox IT discount code for a further 20% saving.