Just give me a quick overview...
Ease into Microsoft Azure for disaster recovery or more fully for system workload management
Get Microsoft Azure DevOps designed, configured and implemented and your team working with it using DevOps and Agile software development approaches
Get Office 365 designed, configured and implemented and your team productively working with it
Get purpose-built software, developed by our

high-capability cross functional software development teams

Get your 'best of breed' solutions, customer facing apps, and 'systems of record' fully integrated

.
---
Give me all the gory details...
New Zealand research shows that cloud adoption is accelerating at 23% annually with increasingly sophisticated implementations. Organisations are no longer asking whether they should be on the cloud, but rather how they deliver best results from cloud.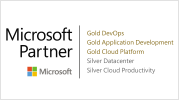 We're a Microsoft Gold Partner for the DevOps, Application Development and Cloud Platform competencies and a Microsoft Silver Partner for the Datacenter and Cloud Productivity competencies. We're your experts in New Zealand for anything to do with Microsoft Azure, Azure DevOps and software development.
Microsoft Azure
Getting the results you need from cloud can be more complex than you think. We are Microsoft Silver Partners for the Cloud Platform and Cloud Productivity competencies. We have numerous Microsoft Azure certifications and one team member is a Microsoft Partner Solutions Sales Professional (P-SSP) recognising his expertise for demonstrating, designing and implementing Microsoft Azure.
We help clients with a range of problems including:
Public cloud business case – calculating cost benefit of implementing and using public cloud in your organisation
Disaster recovery – a pragmatic first step when looking to move to the cloud, where your production environment remains on existing infrastructure and your disaster recovery environment is migrated to Microsoft Azure
Azure design and workload migration

– designing and building Microsoft Azure service and migrating on-premise, data centre and alternative cloud services (including earlier implementations of Azure) onto the new platform.

Azure support - see our managed services offering for details.
Microsoft Azure DevOps
Microsoft Azure DevOps (previously Visual Studio Team Services (VSTS)) is a cloud-based software development platform that integrates with open source and cloud technologies. We are a Microsoft Gold Partner for the DevOps competency and a Microsoft Silver Partner for the Application Development competency. Combined we have numerous Microsoft certifications relating to DevOps and application development and one of the team is a Microsoft Virtual Technical Solution Professional (VTSP) for DevOps recognising his expertise in DevOps, Azure DevOps and Visual Studio.
We help our clients with a range of services, including:
Azure DevOps implementation

– designing, configuring and implementing Azure DevOps (or non-cloud Visual Studio and Team Foundation Server alternative)

Azure DevOps learning and adoption

– training and coaching for Azure DevOps, Visual Studio and TFS

Agile and DevOps coaching – improving team work practices to get the most out of modern software development approaches and Azure DevOps - more about our DevOps services.
Azure DevOps support - see our managed services offering for details.
Office 365
Office 365 isn't just Office on the web, it's a whole lot of functionality that you can use to improve your organisation's productivity. As Microsoft certified technology experts we help our clients with:
Purpose-built software development
We have some of the best and most qualified software development professionals available using the latest approaches, languages and technologies for front end, back end and full stack development. Our high-capability cross functional teams work together using Agile, Lean and DevOps processes to understand your needs and deliver the required software application at the right time, agreed price and appropriate level of quality.
We have a core capability to deliver purpose-built software to run on Microsoft Azure or any other platform.
We also maintain and enhance custom software, see our managed services offering for details.
Integrated solutions, apps and systems
The world has moved from monolithic systems to many 'best of breed' solutions, customer facing apps and 'systems of record' that need to integrate.
We have deep architectural and technical skills across a broad range of systems and technologies and we have specialist expertise in Microsoft Azure. We have developed numerous APIs, web services and microservices and also work with integration platforms such as Mulesoft and Zapier.
We can help you architect and implement integration between your systems to provide both a rich customer experience and also ensure that you have the information you need in the right places.
What you can count on:
Our best people

– known and trusted cloud and technology specialists, hand-picked for your needs
Azure experts

– cloud architecture is becoming increasingly complex and nobody knows it better than our experienced, certified Microsoft Azure experts
Brain trust access

– our cloud and technical experts have direct access to both the Microsoft and Equinox IT Universal Mind to solve any problems you face.

Quality – other team members will QA the approach and deliverables, as agreed with you
Certainty of results

– outcomes explicitly agreed and delivered
Smooth sailing

– while we're straight shooters, we pride ourselves in being a good bunch of people who are honourable and easy to work with.