Just give me a quick overview...
Get your cloud platforms, products and custom software managed, supported and enhanced
Get specialist managed services for Microsoft Azure, Microsoft Azure DevOps, Office 365, customise production software, plus other technology sets and platforms
Get issues resolved rapidly with a consistent service you can depend on
Get access to the 'brain trust' across the combined Microsoft and Equinox IT team to solve any problems you face.
---
Give me all the gory details...
Your time and that of your team should be spent on the strategic issues important to your organisation.
We're a safe pair of hands to manage, support and enhance your cloud platforms, products and custom software. We'll attend to all of the business-as-usual technology activities and resolve production issues.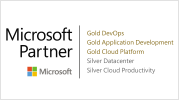 We're a Microsoft Gold Partner for the DevOps, Application Development and Cloud Platform competencies and a Microsoft Silver Partner for the Datacenter and Cloud Productivity competencies. We're your experts in New Zealand for anything to do with Microsoft Azure, Azure DevOps, Office 365 and custom software maintenance and enhancement.
Managed services we provide
We're specialists in managing services and supporting the following technology sets and platforms:
Microsoft Azure
Microsoft Azure DevOps, Visual Studio and TFS
Office 365
Custom software in production that requires ongoing maintenance and enhancement.
With broad and deep technical specialists we're also well placed to manage services across many other technology sets and platforms.
What you can count on:
Dependability – we'll consistently and reliably deliver all agreed work items such as backups, upgrades and security patches
Issues resolved – with access to some of New Zealand's best technical problem solvers and trouble shooters, we'll rapidly resolve any technical issues that arise with your managed service technologies
Speed – we know how important it is to your business to have changes made and issues resolve quickly and we'll agree and meet time-based service level agreements
Quality – anything that goes into your managed service technologies will be thoroughly quality assured in test environments before going to production
Continuous upskilling – our people will be regularly trained and mentored to keep getting better
Brain trust access – whenever required our managed service team members have direct access to both the Microsoft and Equinox IT Universal Mind to solve any problems you face
Client knowledge base – we'll retain knowledge and records of all procedures and work performed to provide a consistent and highly tuned service to your needs.