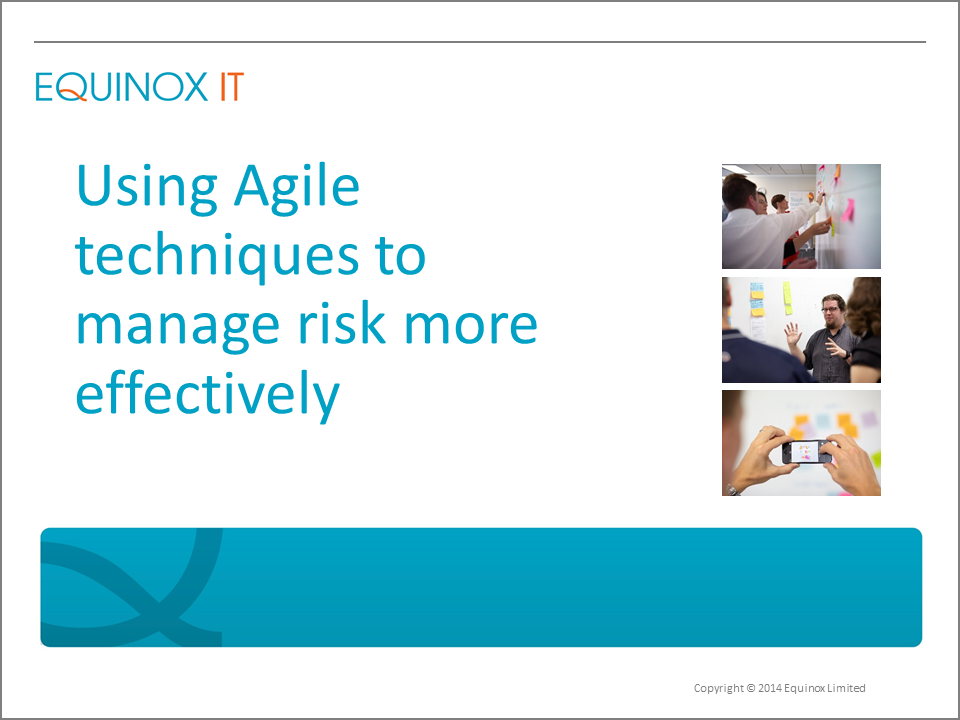 This 45 minute recorded webinar will show you how to use Agile techniques to manage risk more effectively
Hosted by Equinox IT and presented by Rowan Bunning, Certified Scrum Trainer, Scrum WithStyle (Equinox IT's Scrum training partner).
We all know that the 'Waterfall' approach has dominated our IT projects for many decades. What is less well known is that its inventor warned the world in 1970 that Waterfall is "risky and invites failure". From a risk management perspective, is Waterfall ever an appropriate choice for complex IT initiatives given what we know?
By contrast the Iterative Incremental Development (IID) model, which we more commonly refer to as Agile, now includes many powerful risk management techniques.
In this 45 minute recorded webinar Rowan will talk about Waterfall and Agile from a risk management perspective, and then discuss a number of practical risk management techniques used in Agile.
The following topics are covered:
Water-fallicies
Validating business hypotheses using Lean Startup
Outcomes over outputs using Impact Mapping
The new risk-reward game using entrepreneurial Product Ownership
More minimal than Minimal Viable Product using Story Mapping
Iterative Incremental Development as a risk management strategy
The potential of Potentially Shippable Product
Increment Ways of managing risk using the Product Backlog
Expressing uncertainty explicitly with estimates
Forecasting using Burndown charts
Sprint level risk management
Raising your 'bus factor'
Hypothesis and Experiment Driven Development.