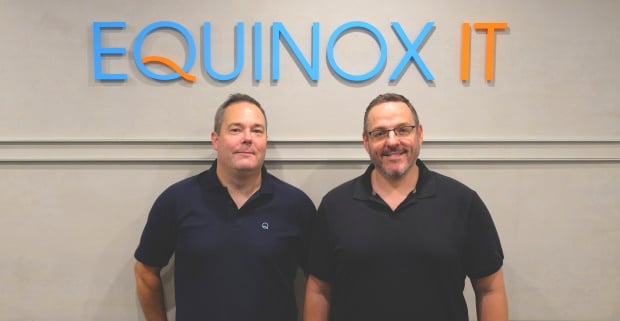 Two CEOs, one mission - Deane Sloan and David Reiss take the reins
It's a big year for Equinox IT – celebrating 25 years in business and also adopting an exciting new leadership approach. The appointment of new Co-Chief Executive Officers David Reiss and Deane Sloan will set the business up for continued success into the future.
This planned succession is a great opportunity to introduce Co-CEOs who are also practicing Principal Consultants in the Wellington and Auckland markets. The Co-CEOs were formally appointed on 1 February 2020.
The Co-CEO model combines the strengths of two exceptional individuals, allowing the company to stay at the forefront of new ways of working and keep a finger on the pulse of the New Zealand market.
Equinox IT chose to hire from within – appointing two existing leaders on merit of outstanding achievements, to continue to grow and evolve the company's DevOps & Agile, Cloud and Business Transformation services.
Deane has been a vital contributor to Equinox IT for the last 20 years in roles including Principal Consultant, Chief Technology Officer, Software Development Director and General Manager Wellington.
David has been with the company since 2016, holding the roles of Principal Consultant and General Manager Auckland. He brings a wealth of experience from his earlier 14 years at Spark Digital, where he held roles in consulting, sales and marketing.
Former Managing Director Roger Dalgleish has led the company since it was founded in 1995. Now based in Southland, Dalgleish transitions into the Chief Operating Officer role to focus on operational excellence.
Equinox IT Chairman Paul Ramsay sees the appointments as a key milestone.
"As we celebrate our 25th anniversary, we're thrilled to have two exceptional leaders in Deane and David taking us into the next 25 years. In the four months acting in the role, they proved that they are two CEOs with one clear mission. I'd also like to recognise the enormous contribution that Roger has made to the company as Managing Director for the last 25 years as he steps into the COO role," Paul says.
Former Managing Director Dalgleish believes it's the right time for new leadership.
"David and Deane have demonstrated excellence in the way they've led core parts of our business. It's natural for them to now pick up the leadership of the company as we look to grow the business for the future," Roger says.
Deane and David are enthusiastic to lead the company into its next chapter.
"Equinox IT lives by its values, cuts through the noise, and delivers pragmatic results to clients. David and I together bring two sets of eyes and two perspectives to respond and adapt to make a difference to our people, our clients and our communities. We're really inspired to work with all of our people to chart our next course together," Deane says.
"Businesses evolving quickly is the new normal. Deane and I love being both Co-CEOs and Principal Consultants, because that means we can bring our clients' needs into the way we run our business in real-time. We're both passionate about what Equinox IT stands for and how we can help the digital evolution of New Zealand organisations," David says.
David and Deane took up their permanent positions of Co-CEO on 1 February 2020 after acting in the roles from October of last year.