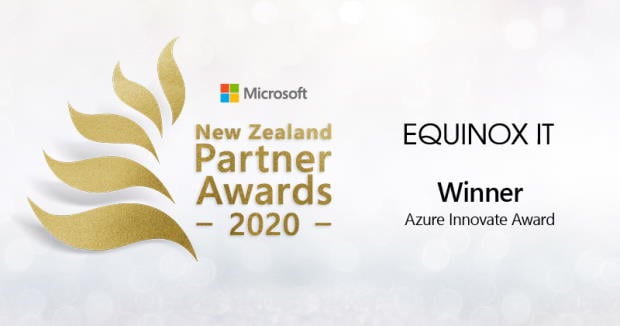 We're very excited to share that Equinox IT has been announced as the winner of the 'Azure Innovate Award' during the Microsoft Partner Awards in Auckland on Friday night!
Equinox IT's Julia Valerskaia, Nilay Bhima, Aravindh Rajagopalan, Ajit Garikipati, David Reiss and Sean Kelly were there to accept the award.
The award relates to work that Ajit Garikipati and Nilay Bhima delivered with Fulton Hogan's Enterprise Data Warehouse team, using Azure DevOps to implement infrastructure as code and automate deployment pipelines.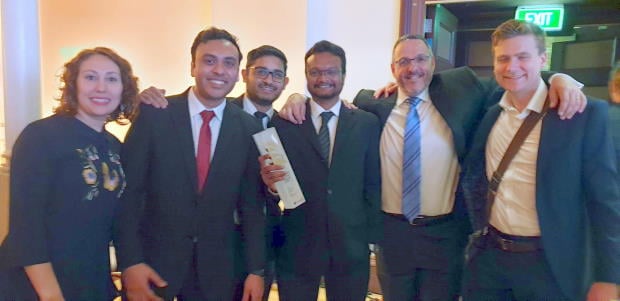 The Fulton Hogan team are experts on Enterprise Data Warehouse, and the Equinox IT team enabled them to automate and speed up the delivery of that capability to support critical engineering and physical infrastructure projects. The Fulton Hogan team are now fully self-sufficient, managing their build, deployment and cloud infrastructure activities.
The project was the first Microsoft related initiative in New Zealand to use DevOps for Enterprise Data Warehouse delivery and the first to take Azure Synapse into production.
Read our Fulton Hogan unlocks Enterprise Data Warehouse automation with Azure DevOps case study to find out more about the work.
Here is what Microsoft say about our award in their announcement release:
"New Zealand's longest running Microsoft Gold Partner for DevOps, Equinox IT, was awarded the Azure Innovate Award. Its work to help Fulton Hogan's Enterprise Data Warehouse team transform how they develop and deploy data warehouse capability to critical engineering and infrastructure projects is a prime example of the outstanding local innovation that attracted Microsoft to launch a new datacenter region in New Zealand."
We want to be known for our best in class services and delivering important wins and successes to our clients and this has been a fantastic way to demonstrate that.
Equinox IT is a Microsoft Gold Partner for the DevOps, Cloud Platform and Application Development competencies and a Silver Partner for the Datacenter and Cloud Productivity competencies. Microsoft is an key strategic partnership for Equinox IT and this year we have focused on growing the relationship, recently becoming a Microsoft Managed Partner.
Our many thanks to Microsoft and their New Zealand team for their tremendous partner support and for running the only 'in-person' Microsoft Awards event of 2020 across all of Microsoft's subsidiaries, during a challenging year worldwide.
Finally, our congratulations to all of the other finalists and winners on the night.
A huge congratulations to the Equinox IT and Fulton Hogan teams on a fantastic project and a brilliant result! We're delighted to have the teams recognised in this way.