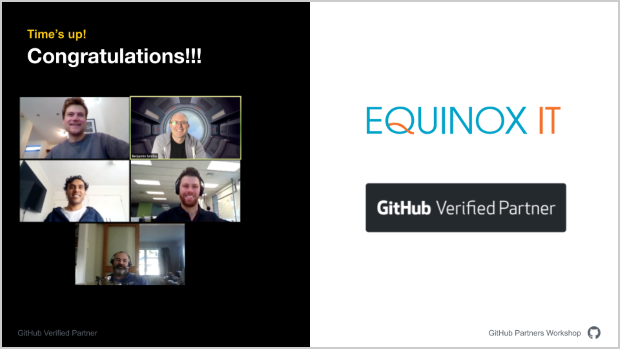 Equinox IT has become New Zealand's first GitHub Verified Partner. To achieve this, GitHub verified Equinox IT's technical capabilities to deliver first class services to clients.
GitHub and Equinox IT are very excited about the partnership and how they can bring their combined capabilities to support clients through the modern software development journey.
GitHub is the world's leading software development platform, bringing together the world's largest community of developers to discover, share, and build better software. The company recently refreshed their Partner Program, in which organisations can work together with GitHub to provide better services, share knowledge, participate in training opportunities, consult customers with GitHub expertise and much more. It's a way to bring technology and business together in order to transform how teams use GitHub in their software development.
Microsoft acquired GitHub in 2018 as part of its continued commitment to the open-source community and sees GitHub as a core part of their future DevOps product plans.
Equinox IT were early leaders in iterative, Agile and DevOps software development approaches and are the country's longest-running Microsoft Gold Partner for DevOps. They are now the only New Zealand Gold Partner to also be a GitHub Verified partner.
David Reiss, Equinox IT Co-CEO, sees the GitHub partnership as critical to clients' DevOps journeys.
"Software development and better ways of working have been the core of our business for over 25 years. GitHub is a legend in the developer community, and the partnership enables us to help more software and IT teams adopt DevOps and deliver better, faster results to their customers."
"It is an acceleration of our commitment to DevOps, supported by the best Cloud-based platforms" David says.
The GitHub and Equinox IT partnership was agreed in May 2020.