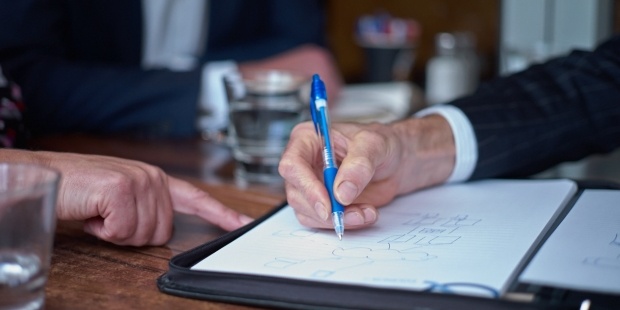 If you are an IT professional and have developed your IT capability and skills over a number of years, you may be considering the next steps in your career. There are numerous paths that you can take. If you are looking for variety and a degree of independence from the organisation that needs the work done, you may want to consider moving into an IT contractor or IT consultant role. While the titles 'IT contractor' and 'IT consultant' are often used interchangeably, in reality they are quite distinct. So the question becomes "IT contractor or IT consultant - what's the right path for you?"
In this post I explain these two roles, to help you decide which one may be right for you.
The IT contractor (the doer)
Typically, IT contractors are engaged to perform a task that an organisation doesn't have the capacity for.
IT contractors might be called upon to work remotely or join a team working in-house within the organisation, and invariably they will report to a project leader or manager from within the client's team.
In my time in the IT industry I have come across many 'career contractors' – those who go from one project to the next across different fields and organisations. They love what they do, and they're very good at it.
Key skills of an IT contractor
Technical expertise (niche and global). Most IT contractors are freelancers and sole traders who are contracted directly by a client organisation or through an agency based on their individual technical skill-set. In some cases, career contractors will have one core technical skill set which they apply (e.g. software development, information management, support analysis). Others will have worked across a range of different roles and bring with them technical expertise from these experiences.
Ability to work as a team, and individually. While IT contractors tend to be sole traders they need to be able to work as part of a team in order to get things done.
Be proactive, have high standards, and work to deadlines. As an IT contractor you often need to find your own work. As such, you need to be proactive, flexible, and capable. You also need to be able to demonstrate a proven ability to get the job done to a high standard and within the deadline.
Benefits of being an IT contractor
Income potential. Many people are attracted to the IT contractor role because, if they have excellent skills and are consistently in demand, they stand to make an excellent personal income from well-paid hourly or daily rate contracts.
Independence. IT contractors also have a degree of independence from the organisations using their services. They are often paid to do specific roles within IT projects and can avoid the organisation's management structures and politics.
Variety. Because an IT contractor's engagement with an organisation is normally shorter than that of an employee, they can often get more variety across different projects, organisations and industries.
Challenges of being an IT contractor
Personal Risk. As a sole trader, an IT contractor takes on greater personal risk. If there is a shortage of demand in the market for their skills and they do not have a paying contract, then they may receive no income. Savvy IT contractors will set aside some of their earnings to protect themselves in this situation.
Decline in relevance over time. Often an IT contractor's skills can become less relevant over time, particularly if they don't personally invest in their own professional development. Normally organisations using IT contractors will not pay for those contractors to be trained or developed. If the organisation needs different skills they will simply find a different contractor or employee with the required capability. As a result, an IT contractor specialising as a Sybase developer, for example, may end up always being engaged as a Sybase developer, and as that specialism becomes outdated it can be increasingly difficult to find new work (and likewise difficult to find salaried work).
The IT consultant (the strategist)
In contrast to an IT contractor, an IT consultant tends to work as part of a broader consulting team, with that team being engaged to provide the skills and expertise that the client organisation doesn't have in-house. Rather than it being a capacity issue, it's a capability issue.
IT consultants tend to be brought in on high-level complex projects that cover multiple IT areas and involve many stakeholders. It's a varied role and one that requires a wide range of technical expertise and additional skills.
IT consultants will take the lead on a project for a client and can ultimately be responsible for its implementation and success.
Key skills of an IT consultant
Lifelong learners. Over their career IT consultants will have the chance to grow their capabilities and work in different roles from strategy to delivery. They need to have a passion for learning and an eagerness to continually extend their skill-set.
Depth and breadth of experience. Due to the nature of the projects that IT consultants are often involved in, they tend to have technical diversity, breadth of experience across industries and projects, and have spent a decent amount of time in the role. It's rare to find an IT consultant with less than five years' experience in the industry. Most have at least a decade of experience under their belt.
Strategic and management skills. An IT consultant knows how to get to the root of an issue through strategy, logic, and asking the right questions. Interpersonal and management skills are as important as technical skills in IT consulting.
Benefits of being an IT consultant
Making a greater difference. Because IT consultants are strategists, leaders and advisors they normally play a greater role in helping organisations overcome their tough business problems, when compared with an IT contractor who is often contributing at an operational level.
Collaboration. IT consultants normally work as part of a consultancy team. Even when they are working individually, IT consultants can draw on the wider experience of the team to deliver the right results for the client organisation.
Relevance and career advancement. IT consultancies are motivated to invest in their people. The more capable and relevant the IT consultant, the greater demand and better rates the consultancy can get for their services. As a result, IT consultants should find that their career continues to develop and grow over time.
Variety. Depending upon the nature of the assignments, IT consultants can get more variety than both client employees and IT contractors. Some consultants can be working for multiple clients on different business and IT problems and challenges.
Challenges of being an IT consultant
Meeting expectations. Client organisations will bring in IT consultants as experts to provide advice. The expectations can be high. The role requires you to bring all of the breadth and depth of your technical expertise together with your ability to understand and solve problems, and your interpersonal skills to communicate and work with others. It often takes a special mix of experience, capability and personality. The profession is not suited to everyone.
Balancing priorities. The best IT consultants are in high demand due to their hard to find skills and ability to make a difference to client organisations. They can be required to balance a number of competing priorities from different stakeholders both within and across the various client assignments they are working on.
Which path to take?
Which role you choose – IT contractor or IT consultant – is ultimately a personal decision, though people will often find themselves evolving from one role to the other. Select the path that is right for you based on the skills you have and what is important to you, whether it be income, independence, career acceleration, contribution, collaboration, relevance, variety, or risk.
Officially, I'm a Principal Consultant at Equinox IT but I do not have a title listed on my business card. This gives me flexibility to fill whatever role is required for a project or for the organisation – be it a contracting-type implementation role or a consulting manager or advisor.
In taking your next step in your IT career, whatever that may be, you will want to continuously grow your capability, and as such you may be interested in our article Getting outside your comfort zone makes you a better IT professional.
I welcome your feedback and experience in either or both of roles presented in this post.
Paul Ramsay is a Founding Director and Principal Consultant for Equinox IT.