In a rapidly changing and increasingly digital world you and your organisation need models and frameworks to help you succeed.
Equinox IT is the only New Zealand-owned IT consultancy that sponsors the MIT Sloan Center for Information Systems Research (CISR). In June I had the good fortune to represent Equinox IT at the CISR summer session in Boston, USA. The summer session had the theme of 'Generating Business Value from Digitization'. During the session I heard the latest MIT CISR industry-based research findings from leading IT thinkers such as Peter Weill, Jeanne Ross and Erik Brynjolfsson. Topics covered included total digitisation, the future of IT, business architecture, big data, business analytics and the relationship between business and IT.
In this post I summarise 5 key MIT CISR models that were presented at the session that I believe are highly relevant to New Zealand organisations looking to successfully operate in today's digital economy. Digitalisation, from an IT perspective, refers to the creation of new resources and enriching traditional resources, making these available digitally to invited audiences.
1. Architectural maturity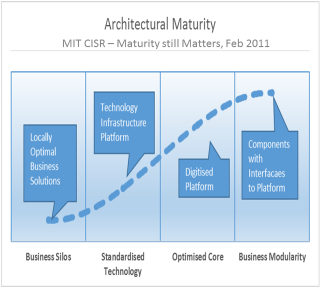 To operate successfully you need a digitised platform that fits your organisation. The architectural maturity model is based on four stages of development: business silos, standardised technology, optimised core and business modularity. In 'business silos', the organisational focus is on point or localised solutions that offer immediate business opportunity. 'Standardised technology', as its name implies, standardises IT across the organisation to reduce cost and risk. 'Optimised core' uses an integrated platform across the organisation to support enterprise wide priorities. 'Business maturity' optimises the digitised platform to achieve operational and strategic excellence across the organisation.
The scope of change that delivers business value for your organisation will depend on where you are in your architectural maturity journey.
2. Operating model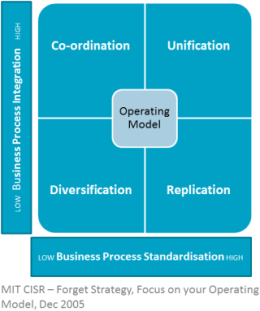 Understanding your operating model will help you identify the kind of organisational change that will deliver value, and the digital infrastructure needed to support that change. The operating model is determined by assessing the organisational levels of business process integration, and business process standardisation.
A 'Diversified' operating model has low integration and low standardisation, such as the independent business units operating within organisations like General Electric. A 'Replication' operating model has low integration with high standardisation, such as McDonalds family restaurants. A 'Co-ordination' operating model has high integration with low standardisation, such as banks, where credit cards may operate differently from retail banking, but they tightly share information. A 'Unification' operating model has high integration and high standardisation, such as international parcel delivery, where standard approaches and shared information is fundamental to getting the item across the globe.
No one operating model is 'better' than another, the way the business operates needs to work for your organisation. Understanding your operating model is important to help gauge what kind of change will add value, and what kind of digital infrastructure you will need to support that change, now and in the future.
3. Complexity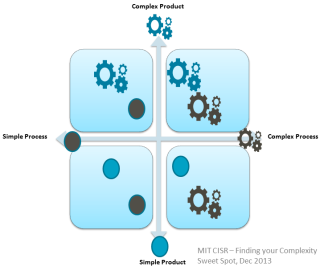 Complexity can be broken down into two forms: How complex are the processes you use and how complex are the products and services you offer. In general, process complexity can reduce value, whereas product complexity can add value.
Understanding your complexity will help you increase the benefits that your products or services add to customers and minimise the bad customer experience of dealing with your organisation because the process is too hard. Digitising your organisation can facilitate both of these areas, offering options to enhance your products and services and streamlining processes.
4. IT value cycle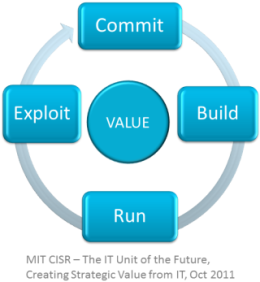 To deliver maximum value in a digital world, you need to understand the IT value cycle. MIT research shows that getting more business value requires a change to the IT value cycle, extending standard commit, build and run steps to also include an exploit step to gain more value. In this context, exploiting can be thought of as optimising, to gain maximum value from your digitised platform.
In our rapidly accelerating world, the cycle of change is becoming shorter and your organisation needs to both commit to the right change, and operate and exploit what you have today for greater value tomorrow.
5. Value from data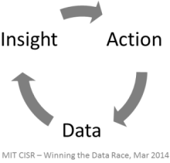 Getting value from data within a digital world can improve decision making to build business capabilities and business intelligence within operational decision making.
It is important to understand that gaining value from data requires focus on purpose, analysing data, generating insight, acting on insight and making sure that data provides value.
Summary
Joining all of these models together – if you profile your organisation (or business area) using the first three models:
architectural maturity
operating model(s)
complexity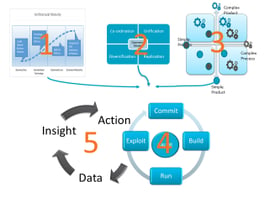 ...then you can do a better job of understanding what change you should commit to for maximum future benefit. You can also identify how you can operate and moving through to the last two models exploit what you have to get maximum value, and leverage data to inform your operational and strategic decision making.
Successful change is change that works with the way your organisation operates, and supports the strategic direction of the organisation. Applying these models can help you to identify and deliver successful change within the organisation you have now, and build the organisation you want.
All five of these models come from the great research performed by the MIT CISR, and you can find out more details about them on the MIT CISR website. In my 'Creating organisational success in a digitised world' webinar I also discussed the models further and brought all 5 together into a framework for thinking about change, digitisation and value within your organisation. Becoming a digital superstar is about understanding where your business resides in each of these models and using IT as an asset to maximise your business value through digitalisation.
Jasmin Wilkins in a Principal Consultant based in our Wellington, New Zealand office.