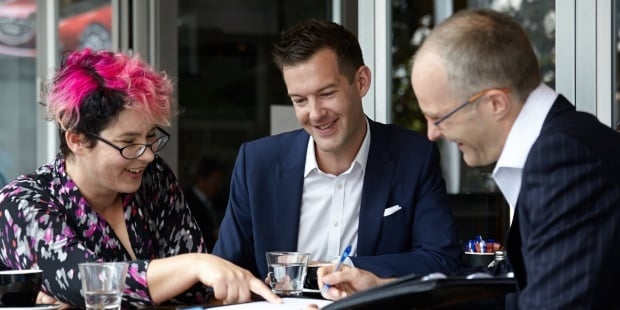 I was recently approached by someone who was looking for advice on how to move vocation and start a career as a business analyst (BA). The BA role is an exciting, challenging and in demand, and is a great career path to consider.
If you're in a similar situation, you might also be asking the question 'how do you start a business analyst career in New Zealand?' So I have taken my response to the person who approached me and have laid out the same advice in this blog post to help you on your way.
Work out what kind of business analyst you want to be
The business analyst title actually covers a breadth of activities. Some of these activities focus on understanding the business in order to change it. Examples are understanding business needs, modelling business architectures, and optimising business processes. These activities may have nothing to do with IT. Other activities focus on identifying the details of a specific change, IT, or software development project. Some examples include eliciting and communicating detailed requirements, specifying reporting requirements, identifying quality requirements, and detailing specific business process definitions.
We often find that BAs specialise in certain areas of the broad role, and may even have specialist titles such as business architect, business process analyst, systems analyst and so on.
You'll want to work out where you want to be, so that you can better plan how you are going to get there. If you're not sure where your skills and interests lie, I'd recommend reading the IIBA's Business Analysis Body of Knowledge (BABOK) to get an understanding of the breadth of BA skills and techniques. I'd also recommend reading the Skills Framework for the Information Age (SFIA) to get an understanding the skills you have and need, and what is expected at different levels of responsibility.
Also check the job market; take a look at available business analysis roles on Seek or Trademe to identity the combinations of skills and experience that organisations are looking for. Don't feel intimidated, core skills and qualities such as good verbal and written communication skills, analytical skills, willingness to learn, and broad business experience are central to business analysis, and are very transferable.
Take an available route to a business analyst career
In general, I'd suggest there are two common routes to move into a BA role:
Being a subject matter expert on a subject for which analysis is required. For example, in a bank, BAs will work with business representatives who have subject matter expertise in banking. The BA will elicit information from the subject matter expert as input into their analysis activities. We often find that subject matter experts in time become familiar with some of the business analysis techniques, and given their deep understanding of their business domain are sometimes asked to undertake BA activities directly.
Demonstrating a strong analytical skill set and having a good basic understanding of the business area. This may allow you to be selected into a junior BA role. Often junior BA roles tend to go to people already working within an organisation, who have an understanding of the business, and have demonstrated an interest and aptitude for analysis. Having some qualifications and/or relevant experience in information technology, data and reporting, or process definition will help you!
With these two routes to business analysis in mind, I'd recommend identifying a medium to large organisation in a field you enjoy and are competent in, who have an active business analysis practice. You may already be working there! Look for a business related role (note, this may not be a BA role initially) within this organisation in an area that has regular business change. Learn how the business operates, and look for opportunities to get involved in the change initiatives and projects, potentially as a subject matter expert. In time you might find opportunities to undertake more and more analysis for these initiatives and this will be your route towards a BA role.
In addition, keep an eye out for any roles for junior or trainee BA roles within the organisation. Be prepared; identify the business analysis skills and qualities you have now, keep track of what you've done to extend and develop your skills, and get an understanding of how business analysis is done within the organisation.
Build your BA understanding and network
I'd suggest attending the IIBA New Zealand chapter open presentations. In Wellington these occur during lunchtime once every two months or so – view the Wellington IIBA meetup group. Also see the Auckland IIBA meet-up group or the Christchurch IIBA meet-up group. If you join the IIBA, also attend the member only sessions to get an understanding for how people are practicing.
You will also find a lot of useful content online. At Equinox IT we post on business analysis topics on our blog. Our recent blog article IT business analyst - what you need to be a damn good one has been very popular. We also present webinars on business analysis and other relevant IT topics on a regular basis. Our previously recorded webinars are available on our resources page.
Finally, undertaking business analysis training from a New Zealand training provider may help accelerate your route to the business analysis role. I'd recommend getting yourself into a suitable organisation first, where they may be prepared to develop you into a BA, and see whether they can put you on training. Courses such as our 1-day Introduction to Business Analysis followed by our 3-day The Practical BA would be a great place to start.
Start now
I wish you well on your pursuit of a business analyst career. Getting into your first role will take a good amount of action on your part, so start now! If you have an analytical mind, like working with others, and strive to make a sustainable difference, the effort will be well worth it – I'm sure you will find business analysis to be a challenging and rewarding career. And if you see me at an IIBA meetup, on a project, or delivering an Equinox training course, come and have a chat about business analysis.
Jasmin Wilkins is a principal consultant at Equinox IT, based in our Wellington office.