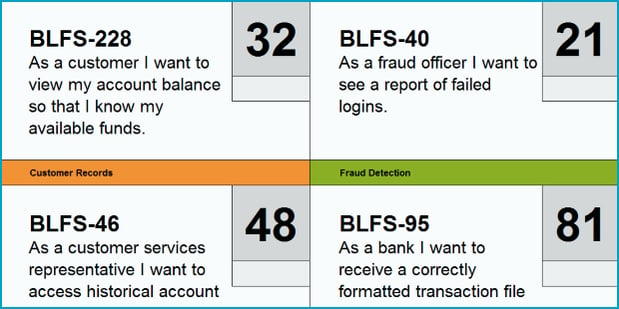 JIRA and Trello are both common tools used by Agile development teams.
If you are using JIRA or Trello on your project, do you need to print out user stories from these tools for your physical Scrum or Kanban boards? If so, are the standard JIRA, Trello or associated plugin facilities meeting your printing needs?
In this article I work though how you can customise and print JIRA and Trello user stories to meet the needs of your project and project team.
Left wanting more when printing JIRA user stories
Over the last few years I have repeatedly looked for a way to print decent user stories from JIRA to put up on physical visual boards, be they SCRUM, Kanban or otherwise.
I've tried a number of plugins available on the Atlassian marketplace and frankly they've all left me wanting more. I finally decided to do something about it.
JIRA and Trello user story printing template
I decided to create a Microsoft Excel-based user story printing template that would work directly with JIRA card exports.
We used this on a number of projects and then an Equinox IT colleague of mine needed a similar ability to print Trello user stories for a project that he was on, so I modified the template to work with both JIRA and Trello user stories.
The template comes with a couple of user story options on the first sheet that cover the basics for JIRA or Trello, but the card layout, colours, fields, formatting, size and everything else is all entirely customisable so you can make your cards look however you like and contain whatever information you like.
Download and use the printing template
You are welcome to download the Excel JIRA and Trello user story printing template and use this on your own Agile development projects.
Instructions for doing this are simple and can be found on the first sheet of the template. In essence though you will need to export from JIRA or Trello all fields for the user stories that you want to print and then paste the exported spreadsheet in its entirety on to the 'Story Export' tab of the printing template. When you then click the 'Generate Cards' button on the first tab the printable user stories will be generated on the 'Generated Cards' tab.
The template automatically sets up the print area so that user stories do not break across printed pages.
Using the printing template on projects
Since I created this a few months ago we've used it at Equinox IT on four different projects and its use has been a great success.
This is one unnecessary frustration that no Scrum Master or Agile team member needs, so you are welcome to download the JIRA and Trello user story printing template for free and use it on your projects.
I hope you find this as useful as we do!
Happy Printing.
You may also be interested in our recent article Picking the right Kanban software - Visual Studio vs JIRA vs Trello vs LeanKit.
Ray Cooke is a Development Manager and a Lean & Agile Business Transformation Coach, based in Equinox IT's Wellington office.