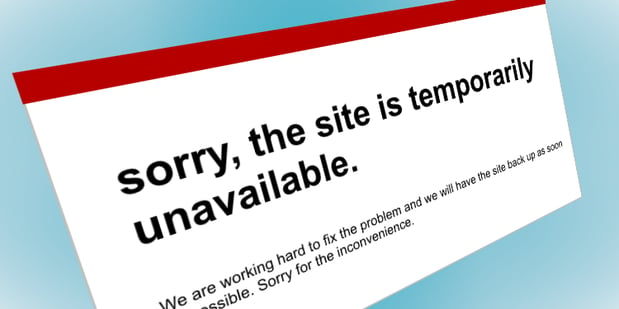 In business systems, particularly those that are customer facing, the expectation is that quick is good. Your customers continue to move online for the consumption of media, getting the latest news, making bookings, and purchase gifts and everyday items. These customers increasingly expect the same from your business. The expectation is that where customer facing systems perform well your customers are happy and will recommend your business to others.
Could the converse be true however? Would bad system performance generate demand? Is this a viable strategy?
Is bad business system performance always bad for business?
As businesses and organisations evolve and test new business models that make their products, services and information available in convenient internet-based ways we are regularly seeing websites and web applications crash due to unexpected loads. How organisations react to this and manage the messaging is always interesting.
This happened with Radio New Zealand's launch of their Checkpoint programme, hosted by John Campbell. Checkpoint is John Campbell's new current affairs show which operates as a multi-channel show on both radio and website based video. The Checkpoint website, which streams the programme live as video content, crashed as a result of heavy load during the first show. As soon as reports started appearing of the website failing to handle the load, the Radio New Zealand public relations teams kicked into gear and swung the negative into a positive. For example they tweeted "If the website is dropping out for you, it's because so many people are tuning in to @CheckpointRNZ. We're working on it, we swear." In other words they used the crash as social proof of the demand for their service and as such the crash most likely had a positive impact for Checkpoint in the short-term.
This is just one recent example of a series of performance-based website crashes in New Zealand and internationally:
In February TicketMaster's website crashed when tickets for the Prince concert went on sale, yet the full quota of 4,000 tickets were still sold out in 10 minutes. It was the same story in Sydney where Ticketek sold the tickets to their Prince concert. Ironically, the entertainment website TMZ crashed two weeks ago after the site broke the news of Prince's unfortunate death.
New Zealand's Reading Cinema website crashed in October 2015 after Star Wars The Force tickets went on sale (as did other international cinema websites).
Ticketek's website crashed in the middle of last year when tickets to the Super Rugby Final between the Hurricanes and the Highlanders went on sale.
Internationally we have also recently seen examples of websites and web applications crashing:
Target and Paypal websites crashed during record Cyber Monday traffic in late November last year
UK's Lotto website crashed a couple of months ago in the build up to a record jackpot of £50.4m
The 'ban Donald Trump from UK petition' website crashed due to visitor numbers. Hilariously, Canada's immigration website also crashed in March due to heavy traffic loads after Donald Trump's success during the Super Tuesday primary election results.
Kylie Jenner's LipKitByKylie.com website crashed due to high-demand
Dismaland booking website for notorious street artist Banksy crashed due to heavy load
Chelsea Football Club's website crashed just before Christmas after the club sacked their team manager Jose Mourinho and the Manchester City website also crashed two weeks ago during the scramble for Real Madrid Champions League tickets
Beyonce's website crashed in February after she announced a world tour.
In many of these cases, the failure of the business system to perform was explained away as a sign of unexpected popularity – a good thing that entices more customers.
Is bad system performance a robust marketing strategy?
Turning a performance negative into a positive may be a convenient short-term response. But very soon consumers of CheckPoint will want a stable, reliable and responsive service or they will go somewhere else for their current affairs information. Judging that tipping point between bad business system performance being good, and bad system performance just being plain bad, is not an easy thing and is a high risk strategy when you get it wrong. Your customers will go elsewhere for the services, products, information you provide on your web-based properties if these don't respond well to known or unexpected high volumes of visitors. What happens if your customers don't have the mind-set of 'wow – this is cool that it is so popular' and instead have the mind-set of 'why am I wasting my time here', or that mind-set changes and you don't respond in time?
Ensuring your website and web applications perform is the

only

long-term strategy
The Target example above is a great case, because they face competition for the products they sell and there is only a limited time that customers were able to get discounted products on Cyber Monday. How much revenue did Target lose on Cyber Monday because customers couldn't purchase the products they wanted from the Target website and so instead these customers went to a competing ecommerce site with Cyber Monday discounts whose website was stable, reliable and responsive despite the peak load of visitors? How many will not have Target as their first point of call next Cyber Monday, for fear of missing out on any discounts?
The long-term strategy for Target, and CheckPoint, the other examples above, and you is having websites and web applications that are stable, reliable and responsive even when there is a spike in traffic.
As a side point, Google and Bing's ranking algorithms consider the speed of your website when determining how they rank your content. So as an important side benefit, high performing websites and web applications will both rank and convert better, which has to be good for your business.
The need for performance testing and performance monitoring
Undertaking performance testing activities as part of each release cycle of your website or web application allows you to model potential peak loads of visitors to your web-based properties and measure in a test environment how well these perform in terms of stability, capacity and response times under load. Suitably skilled people can then trouble shoot problem areas, fixing performance bottlenecks and tuning the performance. This gives you confidence that performance problems are unlikely to impact your website or web application once live, to the volume of visitors for which you have tested. If you want to play with marketing on leveraging bad performance for good news, having done a performance assessment you are better placed to manage that tipping point, IF this is a strategy that you want to bet your business on.
In other words, no more surprises. Performance testing allows you to anticipate heavy visitor loads, see how your website and web applications will perform and make changes so that you are ready for when heavy visitor loads are experienced in your live environment.
When your website or web application is live you can also monitor the actual live performance of your website and web application in the areas of visitor load, capacity, stability and response times. This information can help you understand the performance of your website and web application allowing you to continuously improve performance.
Next steps
As your website and web applications become increasingly important channels for sharing your information, services, products and media with your customers and audience, as a long-term strategy these web-based properties need to be stable, reliable and responsive, even when you get peak loads of visitors.
We are here to help and we are always happy to talk to you about approaches for ensuring your websites and web applications perform. Ask us your questions in the comments below or feel free to get in touch.
Shane Ross is Equinox IT's General Manager Sales and Marketing, based in Wellington, New Zealand