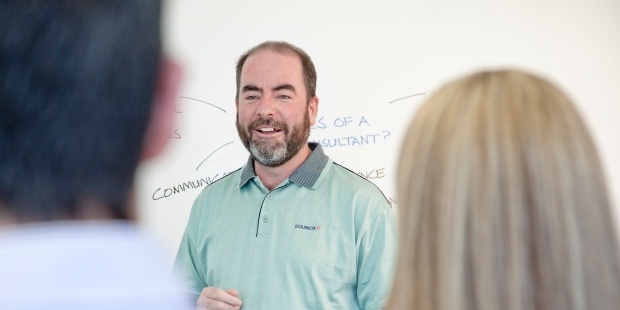 If you are looking to organise IT professional training for yourself or members of your team, then you may be wondering if public training or in-house training is more suitable. In this article I describe both types of training, the advantages and disadvantages of each, and when I recommend each is used. I hope that this will help you make the right training choices for your IT professional team.
Public training
Public training refers to classroom training that is held on a regular scheduled basis, that anyone from the public or any organisation can register for and attend based on a per person fee.
Advantages of public training
Suitable and cost effective where an individual or small number of IT professionals within a team need to learn a specific IT professional topic.*
Because this type of training normally is consistent from one instance of the course to the next, you can assume that all people who have been on the course have learned the same content.
The training happens in a dedicated training room away from the attendees' organisations, reducing the chances of workplace distraction or crises which can scuttle learning effectiveness.
Because the audience often comes from a variety of organisations, there are good opportunities to network and learn from others with different experiences.
Disadvantages of public training
The training occurs when and where it is scheduled, regardless of whether or not this date, time and venue is suitable to your timeframes, location and needs.
While training instructors generally will look to understand the needs of his or her audience and target the delivery to be suitable, the underlying training content will be based on a standard course, not tailored to the needs of the students or organisations in attendance.
The public nature of the training means that it is difficult for attendees to share their organisation specific problems with an open audience. As a result, the training instructor is less able to apply his or her experience and expertise to provide guidance on specific real-world problems as part of the training.
A public course may have been attended by some team members, but not others, and this does make it more difficult to get the whole team on the same page, with a consistent language and an agreed approach relating to the topic of the training.
This training can be a more costly option where many team members need to be trained, because it is normally priced per person.*
Use public training when:
You are placing yourself on training as an individual or an IT contractor
Your team is small and it is more cost effective to train the team through a public course rather than dedicated in-house courses*
You cannot take the whole team out for training at the same time, and it is more cost effective to train the partial team through available public courses
You want to get exposure to other people and their experiences with this topic in different organisations.
In-house training
At Equinox IT we use 'in-house training' to refer to classroom training that is delivered as a dedicated course for a particular organisation. Only the IT professionals the organisation chooses from within may attend; it is not open for public registrations or to attendees from other organisations. Because it is dedicated to one team or organisation, that organisation can have the course targeted or tailored specifically to its learning needs.
Despite its name, this type of training does not necessarily refer to training that is delivered by the organisation itself, and for Equinox IT training courses, these are always delivered by one of our team. While this training is often delivered 'in-house' at the client's premises, this does not necessarily need to be the case, and we sometimes find it is better when the training is delivered at a different venue outside of the organisation.
Advantages of in-house training
Training dates, times and locations can be agreed between the team and the training provider, and wherever possible be scheduled for a date and venue that fits with the timeframes and location of the team. Note that there may be additional travel and accommodation costs associated with the training instructor travelling to a location convenient to you.
Because this training is dedicated to a particular team, it can be targeted and tailored specifically to the needs of that team. There may be an additional cost associated with the time taken to tailor or customise training.
Teams can share the specific problems they are facing relating to the topic of the course, without concern for sensitive information or organisational reputation. This allows the training instructor to contribute his or her expertise to help direct the learning to overcoming these real problems.
Having the whole team together at the same training can help get everyone on the same page with a consistent language and an agreed approach.
This training can be a cost effective option for team learning.*
Disadvantages of in-house training
This type of training may be less cost effective for small teams, where public course attendance may cost less.*
Because this training can be targeted and tailored, it is most likely to be different every time the course runs. Team members who missed the in-house course or joined the team after the course may find it difficult to easily learn the same material. The best option might be to attend the most similar public course, but this will not have the team specific customisations made for the in-house course.
We sometimes find that in-house courses held at the organisation's premises can cause problems. Attendees can get distracted with work issues, they can come back from breaks late, and sometimes we have seen people pulled out of courses to deal with crises. The value of the learning in these instances is less. Wherever possible, we recommend having the training provider organise one of their training rooms or an external training room away from your organisation's premises.
With an in-house course you will likely be with your regular work colleagues. While this can be useful allowing you to address specific issues for your organisation, it does reduce the opportunity for you to network with and learn from other IT professionals who work within different organisations and have different experiences.
Use in-house training when
You wish to train multiple IT professionals within the same team or organisation*
You need training that fits with your timeframes and/or locations
You need targeted or tailored training specifically for your team's needs
You need everyone in the team to be on the same page, using a consistent language and following a consistent approach.
Because in-house courses can be delivered to meet your team's schedule and specific needs, we often see these being used as an integral part of project kick-off activities when all team members need to adapt or adopt to a new approach or get up to speed with new techniques or tools.
* Cost effectiveness of public training vs in-house training
Generally there is a break-even point between the cost of public training and in-house training. If you have less people to attend the training than this break-even point, then generally public course attendance is more cost effective. Alternatively, if you have more, then in-house courses can be more cost effective. The break-even point number will vary from training provider to training provider, but at Equinox IT, at the time of writing, it is more cost effective to use public course attendance if you have 4 or less people to be trained, and more cost effective to use in-house courses if you have more. This distinction is not always black and white however, because other costs such as venue hire, catering, instructor travel and accommodation can also impact the cost of in-house courses, influencing this break-even number.
The next time you train your IT professional team
Next time you need to attend IT professional training yourself or as a team use this article to determine what is best option for you, public training or in-house training. Note too that depending upon your circumstances and learning needs, other learning options also exist such as coaching, webinars, conferences and industry presentations. To further develop yourself and your team you may also wish to read our blog post Getting outside your comfort zone makes you a better IT professional.
If you are still in doubt, feel free to contact us at Equinox IT and we can help you work out what is the best approach for your team's IT professional training needs.