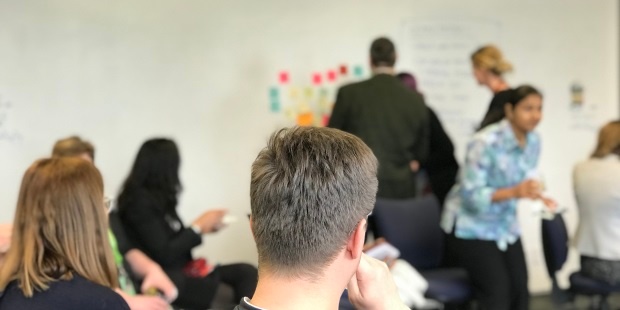 On Tuesday I facilitated our first 'Certified Scrum Meetup' event in our Wellington offices. The purpose was to bring together people who have attended Certified ScrumMaster, Certified Scrum Product Owner and Advanced Certified ScrumMaster training to share ideas and learning on applying Scrum and Agile and overcoming challenges.
I ran the session as a Lean coffee, to cover a breadth of topics over an hour.
Lean coffee steps:
Topics - everyone comes up with topics they would like to talk about and writes them on post its - 5 minutes
Post topics - people put their topics on the wall and group items that are the same or similar
Dot vote – each person gets 3 votes to use as they wish. Topics are then prioritised by number of votes – with the highest voted item at the top
Timeboxed discussions – the highest rated item is discussed for a timebox of 8 minutes. Each subsequent item is discussed for a timebox of 4 minutes with an option to extend by 4 minutes if a majority agree by show of hands.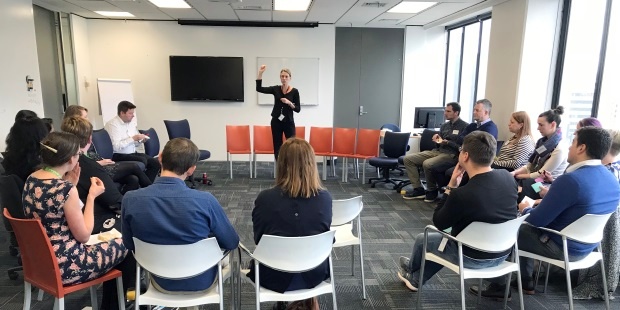 We talked about the following:
Story points
Dealing with reluctance to size
Differing sizing across teams
What is sizing used for (ie not a measure of progress)
Team success should be measured by the value they provide – i.e. did they meet their sprint goal
Ideas were floated – such as one organisation has their senior team members size rather than the whole team
Defining business value
How to define business value
Conversations with senior stakeholders to prioritise by value
Incorporating UI and CX activities in sprints
Suggestions around coaching UI people to produce lighter weight material – e.g. paper based wireframes rather than full designs – encourage conversation and iteration with the team
Working on lightweight designs a sprint ahead while also collaborating with the team on items in development in current sprint
CX – suggestions on doing user testing stories in sprint, then writing new stories for iterating as a result of the feedback
How to put together Agile framework template for your organisation
Suggestions that a new team starting out with Agile would need help
If you were going to use a framework for them – suggest some of the basics eg. Scrum or Kanban frameworks
Seed new team with member of existing team
Ideas for retros
Guided meditation, waste snake, drawing activities
How can Scrum work with fixed customer expectations on scope, time and budget
Its generally accepted that Scrum works with flexible scope for reasons of flexibility to change
Gauge client level of time commitment to the work and ability to let go of laundry list of requirements and talk instead about outcomes
What to do to overcome work boredom
Rotate team members through the less interesting tasks such as BAU per sprint
Hack days/ R&D days periodically to enable team members to work on other things
When shouldn't you use Agile
When senior leadership not prepared to change
If clients unable to participate
Kirstin Donaldson is a Principal Consultant with expertise in Agile and leadership coaching and training, based in our Wellington office.