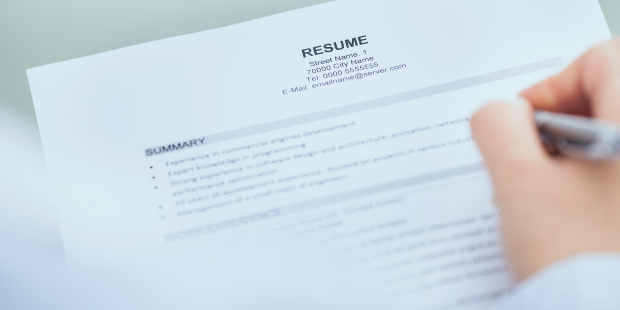 While there is a general shortage of IT skills in New Zealand, in-demand roles within desirable employers will always be hotly contested. Your goal when you submit your curriculum vitae for an IT role is to be shortlisted for an interview. If you are in this situation you may be asking "how do you write an IT CV that gets you shortlisted?"
I work at the pointy end of recruitment at Equinox IT and I've received over one thousand CVs for our IT roles in the last twelve months. The majority of these IT resumes and CVs have failed to grab my attention and they did not compel me to want to know more.
In this article I show how to make your IT resume or curriculum vitae a marketing document with the purpose of getting you noticed and short-listed for an interview, where you will have the opportunity to sell yourself in person. The article will focus on what works within the New Zealand IT context.
1. Always include a targeted cover letter with your IT curriculum vitae
Recruiters and employers have personal preferences about the value of cover letters. Personally, I'm a fan. Unlike your curriculum vitae which is very much about the facts of your career, your cover letter is an opportunity to position why this IT role caught your attention and why you are a good fit to the organisation's needs.
While you will also tailor your curriculum vitae, your cover letter is your opportunity to laser target your match to the IT position and IT employer.
A cover letter should be short and high impact. If you have gone over an A4 page or about 500 words you have said too much. Bear in mind too that many employers, including Equinox IT, now expect you to apply for their roles online using a form. Your cover letter in this instance may need to be communicated through a multi-line field with no ability for formatting.
2. Make your cover letter personal
The cover letter is more personal than your curriculum vitae so make sure that your personality strongly comes across. Equinox IT, like many IT recruiting employers, hires first on attitude and fit and second on skills and experiences. Your cover letter gives a prospective employer a feel for what's important to you and how that fits with their culture, values, stakeholders and clients.
IT in New Zealand is a well-connected network of professionals. Use the cover letter as an opportunity to leverage your connections and networks to get the recruiters attention. Chances are you know someone who works at the organisation where you'd like to work. If not perhaps you share professional networks with people already employed at the organisation or have a connection with the work the organisation does. Making it obvious you already have something in common with a prospective IT employer can create a subtle positive 'bond' with a recruiter.
When you are put forward for an IT role through a recruitment agency, the agency will provide a 'candidate summary' on your behalf in place of your own cover letter. I'd recommend working with your agent on that summary to ensure that your personality still comes through.
3. Make your IT CV highly descriptive
You'll know from experience that the job titles you've had don't do a good job of describing your role and responsibilities. This is where the real work of your CV gets done.
Present each of the roles that you have held in your career chronologically, in reverse order, so that the most recent role is first.
For every role you should include:
The job title
Whether the role was permanent or contract
The period you held the role
For each current and relevant IT role you should further include:
A description of the role
What you were responsible for
The benefits you delivered
Why you left the role
For your current and relevant positions you'll also want to be really specific about what you delivered. As a Business Analyst, your role on projects could have been system analyst, process analyst or requirements manager. Don't tell the employer that you "documented business requirements" when you could honestly say you "elicited and documented the software requirements specification for a $2.3 million core banking system, modelling the requirements and managing traceability using Sparx Enterprise Architect".
If you're just beginning your career in IT, you'll have had a busy 2 to 5 years grounding yourself in your discipline. This may have included applying the good practices described in the various 'bodies of knowledge' and frameworks for business analysis, architecture, software engineering or other IT disciplines. As part of being descriptive, let the prospective employer know through your experience how you've established a solid IT foundation.
4. Demonstrate your technical pedigree and your commitment to learning
This is an IT resume or IT curriculum vitae so make sure to cover off the tools, techniques and technologies you're proficient in - which ones you've applied and which ones you've mastered. IT is evolving fast and you want to be able to show that your learning, development and experience is evolving too.
Clearly you should include your relevant qualifications and certifications. But we also live in a world where so much information is available. So those who show that they are owning their career and taking personal responsibility for keeping abreast of the latest IT trends will get real bonus points with prospective employers.
While most people list their technical skills and formal training attended under specific separate headings in their CV, my preference as a recruiter is to see this incorporated within the context of the role where it applied. This gives me good insight into how you've worked and applied what you've learned.
5. Separate the wheat from the chaff for the reader
My recommendation is to keep your CV to a maximum of 5 A4 pages (6 at a stretch). This should be simple enough if you are near the start of your career, but more challenging if you have a good many years of IT experience that need to be included. In this situation you want to ensure that the most important information is included and least important is excluded. I recommend using the highly descriptive approach outlined above just for your recent and relevant roles. For example, you may wish to provide rich detailed information about what you've delivered in the most recent 5 to 7 years, then be choosy about the detail you provide to describe your roles prior.
6. Write your IT currculum vitae yourself
Applying for jobs can be tough and incredibly time consuming, but taking shortcuts will only hurt your chances of being shortlisted. It's really obvious when you've done a cut and paste of your strengths directly from the job description. Potential employers will also generally know when you have used an online CV builder because your IT resume ends up reading like buzzword bingo, 'blinged up' by someone who's clearly never done the work they're describing. So you need to do the hard yards yourself. Write in plain English, avoid jargon, and have your curriculum vitae read pretty much like you would talk about the work you've done and the places you've worked.
7. Ensure your IT CV looks professional
We have stated that your curriculum vitae is a marketing document. It represents your personal brand. Companies like Apple or Nike are very protective of how their brand is represented, and so must you. Your curriculum vitae must represent the brand attributes that you want to communicate, whatever these may be – professional, thorough, reliable and so on.
As IT employers in NZ, we know that having good written and communication skills are core to you performing in your role, so we will be checking this out. If you fail this test, your chances will take a mortal blow. Furthermore, if you've not used a spell-check and grammar-check over your CV, you're not doing yourself any favours.
Check the formatting too. Make sure the font and page margins are consistent and that any tables, bullet points or other formatting look great. Don't over-do the formatting - a mix of tables, bullets, columns, numbered lists and paragraphed text can be difficult to read.
When you are put forward for a role through an agency be aware that you may not have any control over the format of your CV. Agencies will copy and paste the CV you shared with them into their proprietary format. This can upset the formatting you so carefully triple-checked, so it may be a good idea to ask to see your CV in their format.
8. Be differentiated
You've most likely got 30 seconds or less to grab an employer's attention with your curriculum vitae. If yours is the same as everyone else's then you are less likely to be noticed and you'll be seen as a commodity rather than a value adding potential employee.
Some people have done this with unexpected, yet still professional, formatting or design. Others include a compelling tag line or statement that captures the essence of their value proposition. Earlier in my career I included a small but relevant image and got short-listed for every role that I applied for with that CV.
Bear in mind that since agencies will look to standardise your CV this homogenisation could visually make you look the same as everyone else – an undifferentiated commodity.
9. Eliminate surprises
IT employers will focus just as much on what you don't say in your cover letter or IT CV. They will also target inconsistencies.
If an employer is interested in your application expect that they will 'google-stalk' you. If what they are going to find needs explaining, then cover this off upfront in your application.
Expect the employer to look at your LinkedIn profile too. You will want to ensure your profile is not inconsistent with your IT curriculum vitae and that it doesn't showcase inaccuracies and make the employer question your honesty. LinkedIn has become a useful tool for employers as they can also get a feel for the breadth and depth of your professional network, which can be useful if the role you're applying for relates to consulting or other commercial activities. If you are considering an IT consultant career, then you may wish to read our article The essence of a great IT consultant.
While 'Blank Space' has been a successful hit for Taylor Swift, it is not such a good look on your IT curriculum vitae. Gaps in CV's are an opportunity for employers to make stuff up about your career. Don't let them and fill in all the blanks. IT recruiting employers in New Zealand are interested to know that you spent 3 months in between roles backpacking around Patagonia, or you took time out to raise a family. That's a sign of balance, breadth and independent curiosity.
If you were out of work for a period of time or if perhaps you tried your own venture that wasn't successful, go ahead and be transparent about this. The employer will no doubt ask anyway. Note too that open employers will often see things that you might consider to be 'failure' as positive 'school of hard knocks' experience, and your transparency and honesty may be seen as positive attributes that align with the company's values.
10. Right size your extras
Your IT resume or CV may include other information such as courses attended, out of work activities and interests. In my mind many items included in these sections are 'nice to haves' that aren't going to contribute to a decision on whether you get an interview. If they don't contribute, then they become noise and a distraction. I'd exclude that you attended a Lotus 123 course in 1995 and even the Microsoft Project course in 2005. I'd exclude that you attended the school camp as parent help for little Isobel. In my opinion employers will be much more interested in activities such as speaking at IT relevant conferences or industry bodies, writing IT blog posts, gaining a relevant certification, helping set up the website for the squash club or being treasurer at the childcare centre. The latter items show leadership, contribution and breadth of experience and have real substance.
11. Explicitly state your ability to work in New Zealand
All New Zealand employers must ensure that candidates are legally able to work in this country. Explicitly including your eligibility to work here upfront by stating that you are a New Zealand citizen, resident or work visa holder, makes it easy for the employer and stops them from second guessing or making wrong assumptions. If you are a work visa holder, you should specify the type of visa you hold, the date it was issued and the date it expires.
Bringing it all together
Writing a stand-out IT CV takes time and commitment, but if you've taken the time to identify a job you want in an organisation that aligns with you and your values (read our article How to pick an IT employer who aligns with your personal values) then this effort is absolutely worth it. If you apply the ideas set out in this article then you should be on the right path to getting noticed and hopefully being invited to an interview for a great IT job with your ideal employer.