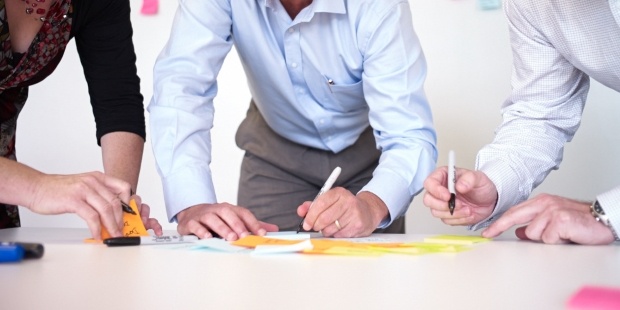 As an IT consultancy and training provider we have always had a strong focus on IT skill development, both for our own team members and also for our clients. Each year we deal with hundreds of IT professionals and we regularly get asked for ideas on how to keep IT skills relevant. This is a great question in a world where technology skills can quickly become outdated. So in this article I suggest a number of ideas to help you be relevant and accelerate your career as an IT professional in a digital world.
While we are a training provider we also understand that training is just one part of developing IT professional skills. There has never been more opportunity to grow your IT capability, so let's get into it.
Here's my 12 smart ideas to keep your IT skills relevant:
1. Get outside your comfort zone
Always put your hand up for professional opportunities that stretch you. Get outside your comfort zone and do things you find hard regularly. In time those hard things become not so hard and not uncomfortable. Your comfort zone has increased. This is called 'growth'. Getting outside your comfort zone may include leading a piece of work, learning and applying a new IT practice, or presenting at an industry event.
To find out more read our article Getting outside your comfort zone makes you a better IT professional.
2. Get a mentor
We see many IT professionals who have developed strong technical skills but need to work further on their soft skills. Increasingly IT is about working with people and working in teams. Contributing to agile development projects, being a great BA or project manager, moving into management, becoming an IT consultant - these all place a requisite on your soft skills. Soft skills are often the hardest to learn, but are key to establishing and maintaining your professional brand. Working alongside and getting guidance from someone who has the soft skill qualities you need will help you to develop and take an important step in your IT career.
3. Invite regular feedback
While this can be hard to do, it can be valuable to understand how you are seen by your peers, your managers and other stakeholders. Don't wait for your annual performance review as this will only slow you down. To accelerate your IT career you should always be on the lookout for feedback, then act on what you learn. Think of it like agile development projects – regular iterations and sprints allow for rapid feedback so that you continuously improve – don't improve once a year like a waterfall project.
4. Get obsessed with luminaries in your domain
While it sounds a bit over the top saying 'get obsessed' what I am trying to say is get emotionally involved in learning new ideas that will help you grow. It can be exciting to find someone who shares similar interests to you, is recognised as a leader, and can give you new ideas that help you become a leader in your project team or organisation.
Social media (particularly Twitter and LinkedIn) can be a great way to find luminaries in your field. I often find I leap-frog from one luminary to others they reference, to grow a broader understanding of the topic.
5. Tap into leading consultancies and research organisations
Organisations like Gartner, Forrester, IBM, Deloitte, MIT CISR and many others are regularly publishing valuable information on IT and IT trends. As IT continuously changes, keeping abreast of trends and new ways of working will help you be current and relevant. Sometimes these resources are available for free.
6. Grow your network
You don't learn much about the world by staying in your own backyard. Whenever you can you should grow your network to learn from the experiences and circumstances of others. Today there are a lot of ways to network:
Physical networks such as Agile Welly, Agile Professionals Network, Wellington Solution Architecture Forum, .NET User Group, IIBA New Zealand and many others. Meetup tends to be a popular platform for joining and being notified of these events.
Virtual groups like those available in LinkedIn can be great ways to connect with like-minded people and also to find valuable aggregated and curated content in your area.
Shared platforms like GitHub and Geekzone also provide useful locations to meet others for joint problem solving and collaboration.
7. Attend training
Attending training can be a great way to get focused learning on concepts, techniques and tools that will help you in your role. If it is specific training for yourself or a team member then public training can be a great option. If you need to get the whole project team on the same page, using a common language and working towards a shared goal, then dedicated in-house training is the way to go.
You can find out more about the differences between public and in-house training courses in our article Public training vs in-house training – what's best for your IT team?. You can also see how much training costs in our article How much does IT training cost in New Zealand?.
8. Get certified
For some IT roles it's vital to hold relevant certifications. We particularly see this in roles that deploy, configure and use specialist software and hardware products. Gaining and maintaining your certifications can be important for remaining relevant.
Training courses may be available for some certifications and learning resources will also be available. There's usually an exam you need to pass to obtain or maintain the certification. Try to sit the exam within a week of completing your study, while the information you've learned is still fresh.
9. Read
Go old-school and pick up a book (or an e-reader) to learn important information in your domain. Because books are longer than many sources of content there can be a significant amount of information and 'how to' learning that can be harvested from this type of learning.
Many disciplines within the IT industry also have their own Body of Knowledge, for example BABOK, SWEBOK and PMBOK. These will often be referenced in your dealings with others so you should definitely have a good grasp of the material within these resources.
If you never find time to read or reading is not your thing, then many books today are also available as audio books through sites like audible.com, and you can listen to these while you mow the lawns, take the dog for a walk or do the supermarket shopping.
10. Tune in to online resources, blogs and podcasts
There is a massive amount of valuable IT content available today online. The great thing is that much of the information is published by IT practitioners solving problems and sharing their experiences, so often it can be highly relevant and able to be applied when you face similar problems. Websites like infoq.com are popular with many of the team at Equinox IT, because they have regular relevant IT content.
Seek out and regularly engage in blog content and podcasts too. Like audiobooks, podcasts can be a great way to consume valuable learning while doing other activities. Some organisations produce podcasts that are audio versions of their blogs and this allows you to keep up with blogs on the go. As websites become more mobile responsive, reading blogs on your smartphone on the bus, toilet or elsewhere is today very convenient.
11. Teach others
There's nothing like being the teacher to motivate you to learn about a topic. Pick a topic that interests you and offer to host a brown-bag sessions, present at a meet-up or offer to speak at a conference. You could also teach by blogging, presenting webinars or starting a podcast. Teaching has many other benefits to – it takes you outside your comfort zone, it helps you develop soft skills and it positions you as a leader.
12. Change jobs
This option is probably most relevant if you feel that you are not developing as you would like in your current position. IT is an exciting and fast moving industry and you will want to be in a job where you are continuously learning and developing relevant IT skills. You will want to be in a team that challenges you to work with one foot out of your comfort zone. At the same time you will want a job where the IT employer aligns with your values – for more information on this read our article How to pick an IT employer who aligns with your personal values. Change jobs if you need to do so to continue learning and become more relevant.
Grow relevant IT skills by becoming a lifelong learner
In previous articles we have written about the attributes of damn good solution architects, IT consultants and IT business analysts. No doubt we will cover more roles in the future. What we consistently find is that the best IT professionals in these and other roles are lifelong learners. The way that they keep learning is by applying the types of ideas covered in this article. They do it regularly, consistently and with an insatiable appetite to grow. Do this for yourself and you will start to see your career accelerate and you'll increasingly be recognised as a highly relevant leader in your discipline.